A stagnant cattle market not moved by rain
While lamb and sheep prices have reacted to the rain in Victoria and New South Wales, the heavy falls didn't make it to Northern NSW and Queensland. As a lot of cattle come out of this area at this time of year, national indicators were stagnant.
Eastern Young Cattle Indicator (EYCI) yardings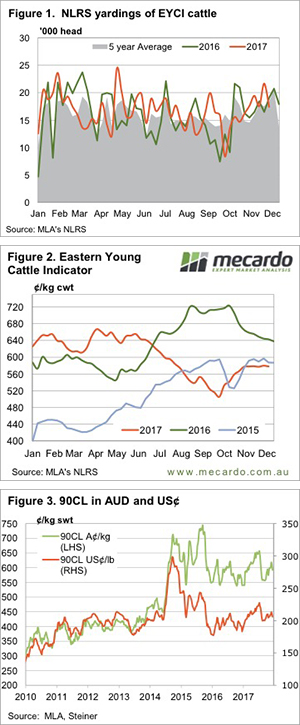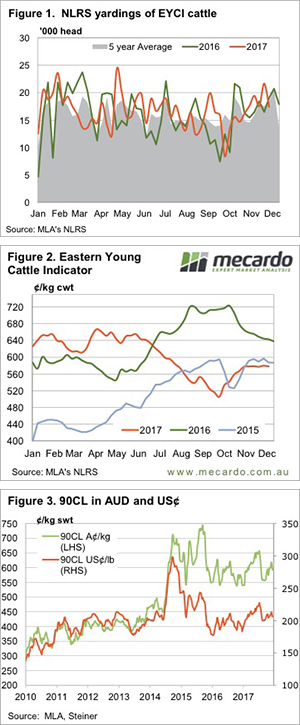 did fall away from the 7 month highs of last week, but remained relatively strong (figure 1). Seemingly demand was a little weaker. The EYCI tracked sideways, finishing Thursday at 579.25¢/kg cwt, and has now spent 6 weeks around this level.
It's probably not surprising, but the major mover in cattle markets this week was the Victorian Restocker Indicator (VRI). The VRI rallied 36¢, or 12% to 305¢/kg lwt, but remains well behind it's Queensland and NSW counterparts, which sit at 359 and 328¢ respectively.
We thought the rain might cause some transport disruptions, and hence stronger prices for slaughter cattle.  But like the EYCI, slaughter cattle values were largely steady, or even lower in some cases. Trade steers seemed to be the hardest hit.
Export beef prices also eased this week, which might explain some of the lower slaughter cattle values.  The 90CL Frozen Cow Indicator fell 17¢ (figure 3), or 2.5% to a 6-week low of 592¢/kg swt on the back of weaker demand from the US. There are also reports New Zealand cattle slaughter is ramping up, which it does seasonally, and increases supplies of lean beef.
The week ahead
With just two weeks to go until the Christmas break, it seems cattle prices are set to track sideways into the end of the year. We won't have wait long after that for a significant move in cattle prices, as we generally get one over the Christmas break.  A good rain in Queensland can kick prices higher, and dry weather might see prices ease.