Brown is my least favourite colour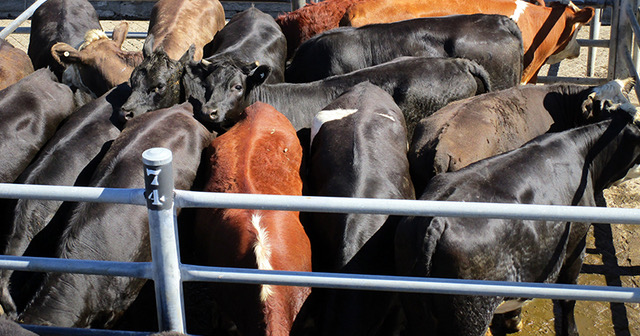 The first sneak peek at the spring rainfall outlook issued by the Bureau of Meteorology (BOM) yesterday paints a grim picture for cattle producers and you could say it's a crappy forecast on account of all the brown patches spread across the country.
An elevated chance of a drier than average September through to November is slated for much of the country except for the western WA and Tasmania – Figure 1. Although this is the Bureau's first glance at the spring outlook, with a more detailed picture to follow at the end of August, it is unlikely to change substantially as their accuracy for spring forecasts is usually moderate to high.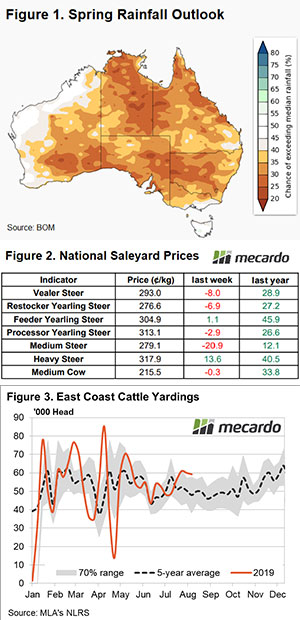 National cattle sale yard indicators responded accordingly this week to the gloomy rainfall forecast with most NLRS reported categories of cattle easing – Figure 2. Heavy steers the only group to buck the trend significantly with the national indicator climbing 4.5% to close at 318¢/kg lwt.
The national heavy steer indicator given a solid boost by NSW heavy steer which managed a 9% lift on the week to finish at 325¢/kg. Although NSW heavy steers aren't the dearest in the country with the winter rain across much of Victoria helping support heavy steer prices there to see them top the table at 337¢/kg lwt, despite only gaining 1% on the week.
Dry conditions in the northern regions across the east coast continue to have weekly cattle yarding numbers running at elevated levels, above average and outside the upper boundary of the "normal range" for this time in the season – Figure 3.
Higher than average Queensland and NSW cattle yardings are the main drivers of the elevated east coast throughput. Over the last month Queensland sale yards have seen throughput running 34% higher than the five-year trend and NSW are 19% higher.  In contrast, Victorian cattle throughput numbers are sitting 8% below the five-year trend.
Next week
Despite the brown rainfall forecast for the three-month outlook there is some rain scheduled in the coming week for Victoria, Tasmania and the south west coastal tip of WA. Unfortunately, the rain subsides as you cross the Murray, so it won't really be enough to get the cattle market too inspired. Expect further sideways price movements in the short term