Cattle price rally stalled and jammed into reverse.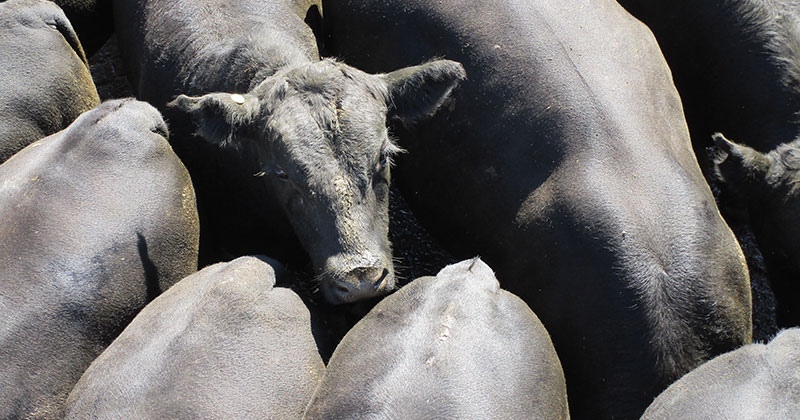 Just when we thought the Eastern Young Cattle Indicator (EYCI) was going to break through last years' level for the first time in over 18 months, the tap turned off and Easter arrived to disrupt the market. This week the EYCI rally not only stalled but jammed into reverse.
There is some evidence that after last weeks' supply driven price fall, it was demand disruption which did it this week. With four kill days this week, and just three next week, it's not surprising to see demand weaken at saleyards. EYCI yardings were down 34% and prices down 6% (Figure 1) suggesting that buyers weren't keen on young cattle this week.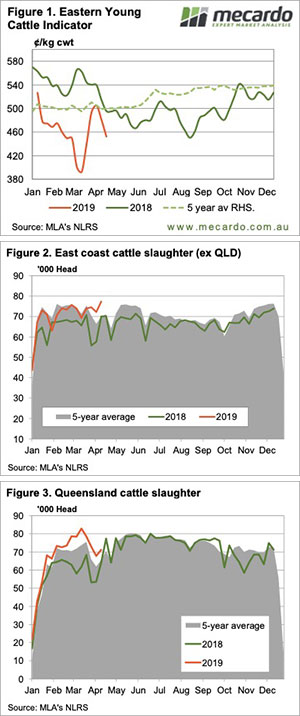 It was seemingly just young cattle which felt the weakening demand. Finished cattle prices were largely steady, ranging from an 8¢/kg lwt fall for Medium Steers to a 6¢ rise for yearling steers.
Every east coast indicator is above the levels of last year, except the EYCI. The lack of feed around and lack of rain on the forecast continues to dampen prices of lighter store cattle. Those of feeder weights are selling better than last year, but only just. The east coast feeder steer indicator is at 275¢/kg lwt, a very strong 30¢ premium to the EYCI.
A couple of interesting charts to finish.  Victorian, NSW and SA slaughter hit a three year high last week as supply continues to flow in the south (Figure 2). The rain earlier in the month saw supply ease in Queensland, but it ticked up again last week.
Next week?:
Easter is traditionally not a good time to sell cattle. This year, demand disruptions are going to be combined with dry weather and that's not good for prices.
We've got around 10 days to see some sort of an autumn break on the forecast, or cattle prices might head back towards the lows of earlier in the year when markets are back in earnest.  As always, good rain will see better prices.