Climate outlook and supply weigh on prices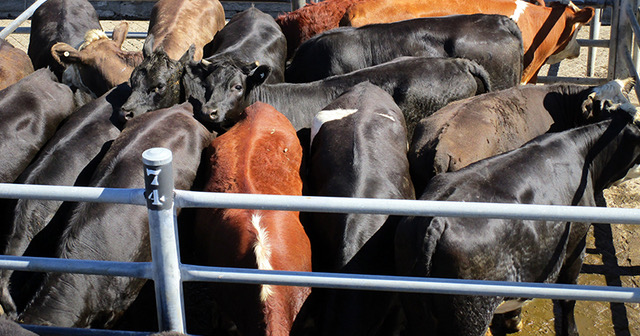 Increasing cattle slaughter and yarding levels heading into early spring have seen cattle prices continue to soften this week for most categories. Further weighing on the general sentiment was the updated three-month rainfall outlook from the Bureau of Meteorology which points to a long dry period ahead for much of the country.
In the last fortnight, east coast cattle slaughter has lifted above the average seasonal pattern to trend 5% over the average for this time in the year (Figure 1). While we aren't culling as many cattle in absolute terms than we did during 2015, as a percentage of the herd we are slaughtering the most cattle since then.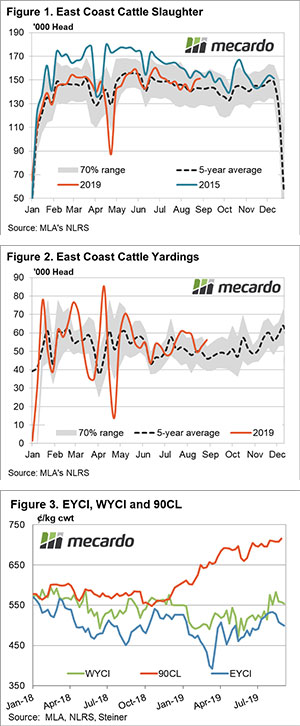 In 2015 cattle slaughter represented 32.9% of the herd. In the period from 2016 to 2018 the ratio of slaughter to herd size remained below 30%. However, if we stay on target to reach MLA's forecast slaughter of 8.1 million head by the end of 2019 this will equate to around 31.1% of the herd, the highest since 2015.
East coast cattle throughput has lifted too in recent weeks, to see it break back out above the normal seasonal range expected for this time in the season (Figure 2). Elevated yardings has been most noticeable in Queensland and NSW over the last month with throughput running 28% and 22% above trend in these regions, respectively.
The weight of increased supply sent cattle prices southward along the east coast. The Eastern Young Cattle Indicator (EYCI) eased 0.8% to rest back below 500¢/kg cwt. East Coast Heavy Steers are feeling the pressure too, taking off 3.6% to close at 311¢/kg lwt. The bigger fall was reserved for East Coast Medium Steer though, with a 7.8% drop noted, to finish the week at 280¢/kg lwt.
In offshore markets, the 90CL frozen cow indicator received a boost this week as disruptions to the supply chain, caused by a fire destroying a large meat processor plant in the USA, sent the price of manufactured meat higher. The 90CL reached its highest level since September 2015 to finish the week at 715¢/kg CIF (Figure 3).
Next week
The short-term picture for domestic cattle prices remains unchanged from last week's summary. The combination of robust offshore demand for beef and the tight local supply of quality finished cattle will keep prices supported on the heavier end of the spectrum.