Climate woes as cattle price goes sideways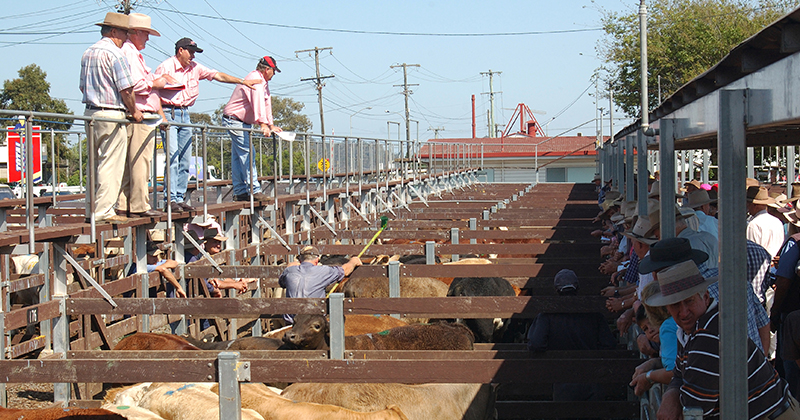 Terrible fires across Queensland and floods impacting coastal NSW are a cause for concern this week and are taking the focus off cattle markets. At least there wasn't much to keep an eye on, as sale yard prices across the country remained within a handful of cents of last week's levels.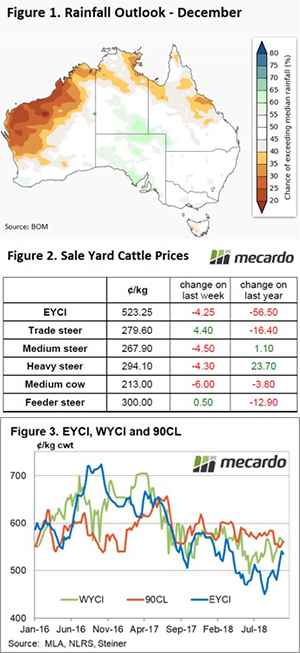 Climate has dominated the news media over the last few days with the fires impacting Gracemere and causing the evacuation order to Rockhampton, which is of particular concern for those with an interest in cattle markets. After spending time in Rockhampton this year for Beef Week and enjoying the hospitality of the locals it makes the footage hit home a little harder, so stay safe any Queenslanders facing these unprecedented fire conditions.
The Bureau of Meteorology released their updated climate outlook for the next three months yesterday which highlights a drier and warmer than normal scenario for much of Queensland during Summer, so hopefully this current fire concern isn't the beginning of a long, hot battle. The December rainfall forecast for much of the country looks reasonably promising with a 50/50 chance of rainfall exceeding median levels across the southern regions – Figure 1.
A glance at sale yard cattle prices along the East coast saw most categories reported by MLA marginally softer by 4-6¢ on last week's levels. The Eastern Young Cattle Indicator (EYCI) mirroring the broader market with a 4.25¢ decline to close at 523.25¢/kg cwt – Figure 2.
Price stability is also the order of the week for offshore markets with the 90CL Frozen Cow indicator hovering around the 560¢/kg CIF level for the last month – Figure 3.
Next week
Rainfall relief is expected to hit Queensland, but not until mid-week when parts of central Queensland will get up to 50mm. There are also some light falls for southern Victoria which will help sustain pasture a little longer before producers head into the summer.
We are yet to see how the Queensland fires will disrupt cattle markets and prices into next week, if at all. Historically cattle prices during December are relatively stable and the anticipated outlook for December isn't likely to disrupt the normal flow of events so expect price consolidation to continue for the short term.