Corona fears brewing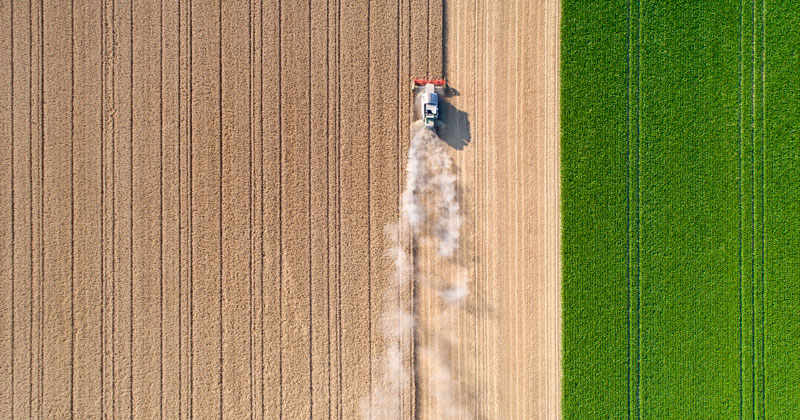 The market has become increasingly worried about the impact of a potential global pandemic of Covid-19. This has resulted in a risk off attitude to commodities. In this update, we take a look at the CBOT market and ASX.
Until recently, Covid-19/Coronavirus was largely limited to China, however this week the number of daily cases outside China exceeded the source nation. This has caused a great deal of consternation relating to the potential impact on global markets.
The wheat market has not been spared from the sell off. US wheat futures for December have had a run of red days with the market falling to the lowest level since early December, wiping out all of the recent gains.
However, one factor to take into account is the Australian dollar. The economic impact of Covid-19 has been mostly felt in China, and our economy is highly reliant on the Chinese economy performing well. The concerns related to China have flowed through to bearish sentiment on the Australian dollar.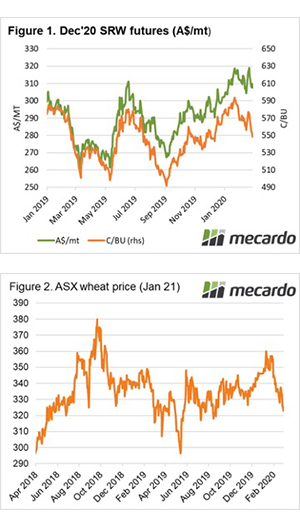 This has meant that when converted into Australian dollars, the fall in Chicago wheat futures has not been quite as severe (Figure 1). This has meant that the wheat futures contract corresponding with our next harvest still offers close to A$310/mt.
At a local level, the rain has continued to fall across large parts of the Australian wheat belt, including WA which had been missing out in recent weeks.
After two years of dire conditions, the wet weather has provided plenty of confidence. Producers are confident that they are set up well, and consumers are confident that they will not be chasing a drought crop to feed their needs.
The confidence in this market can be seen clearly in the January 2021 ASX wheat futures, which have seen a fall from December highs of A$360 to trading at A$323 on Thursday afternoon. This places forward basis at pre-drought levels.
Many of our subscribers have started hedging their 2021 crop, but despite the fall in levels, there are still historically attractive pricing levels available.
*report written on Thursday 28 Feb evening and does not reflect overnight moves
Next Week
We are well into black swan territory. The world has not seen such a potentially disastrous disease since the Spanish flu (1918-1919). This means that the market will likely remain very volatile as traders try to interpret the moves.