Demand driving cattle prices higher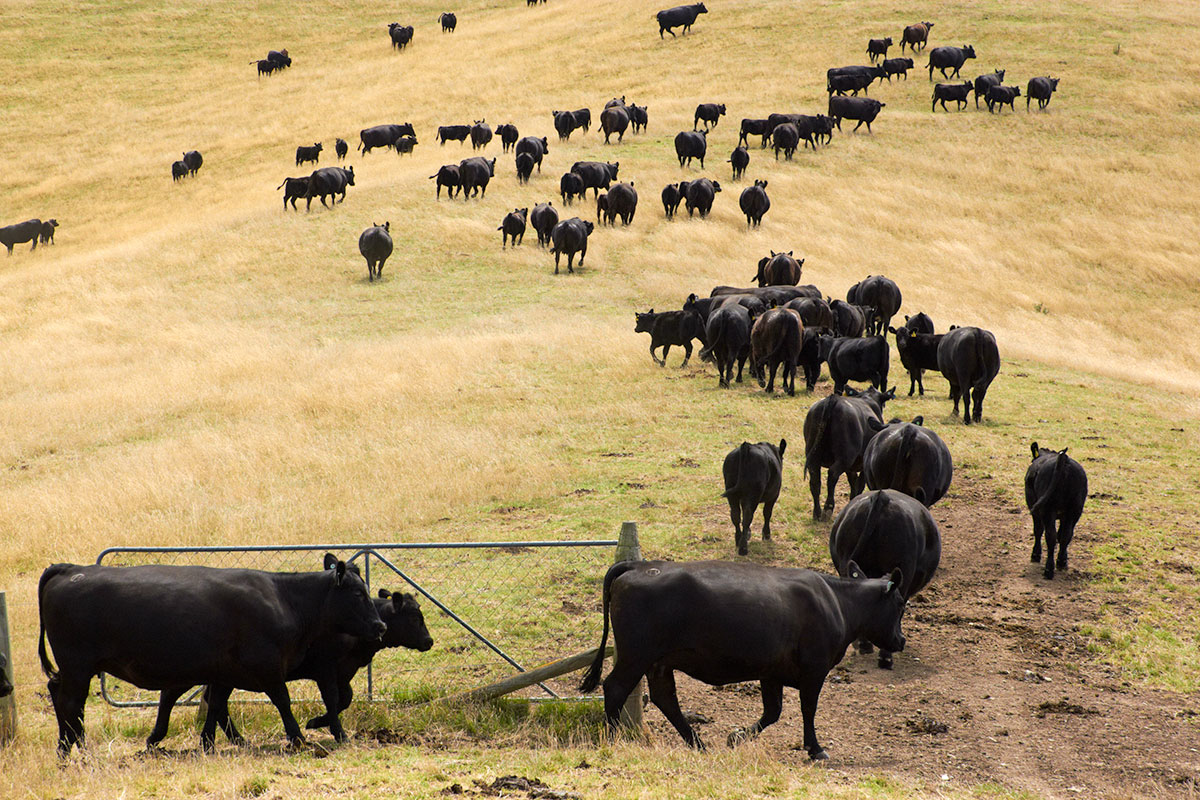 Cattle markets have opened 2017 with a bit of a bang,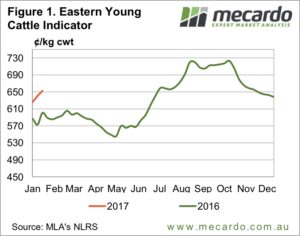 with extraordinary restocker demand, and very good
feeder demand driving prices higher. Cattle supply in
saleyards has been similar to last year, so it would
seem demand is the driver.
The Eastern Young Cattle Indicator (EYCI) has
rallied back above 650¢/kg cwt this week, hitting a
six week high (figure 1). With the dearth of quotes for
the cattle market last week, it's hard to pinpoint who
is driving the stronger prices. However, with the east
coast trade steer sitting at 632¢, and feeder cattle
around 10¢ higher, it would seem restockers are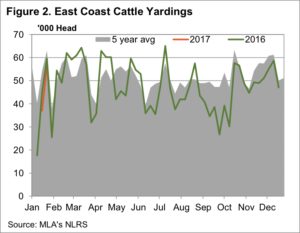 dragging the EYCI higher.
East Coast cattle yardings rallied higher this week,
which is not unusual as normal sales resume. Usually
the pent up supply from the break sees prices move
sideways in January, but it appears it is pent up
demand pushing prices higher.
Some recent rain in Queensland has no doubt helped
push demand in the north, but large parts of
southern Queensland and NSW are still 25-100mm
below the January average.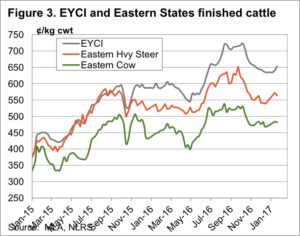 After opening up much stronger, heavy steers eased
marginally this week (figure 3) as the strong price
drew out supply, while cows were also a little lower.
Despite the wide spread between finished and store
cattle prices, the numbers seem to still be working for
those purchasing expensive young cattle.
The Week Ahead
There has been a few positives for the cattle market of late,
and this has resulted in higher prices early this year.
Add to this the widespread rain which is forecast
for the next week and we could see a little more
upside for prices in the short term.
However, unless we see a strong rally in export values,
it's hard to see cattle getting back to the levels of last
spring, with 5% upside probably the limit.