Did the dead cat bounce?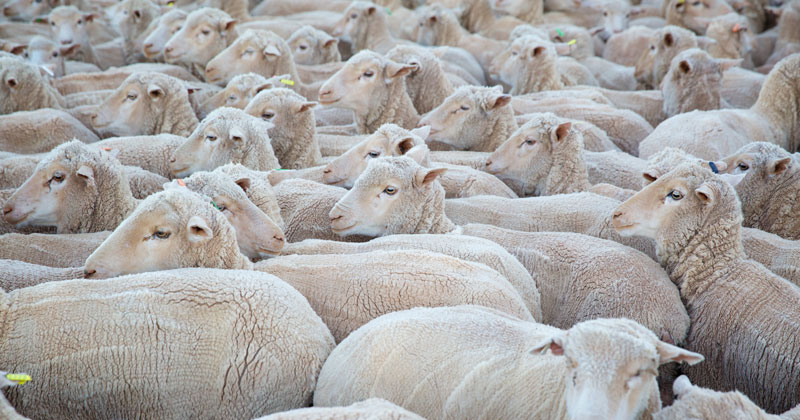 The wool market had a small reprieve from the exhaustive losses that began in June. We did see a similar pause a fortnight ago, although reports from the auction floor suggest that this time around it might be the point of recovery as glimpses of fierce competition were observed on day two.
The Eastern Market Indicator (EMI) fell 32 cents on the first day of sale but recovered 22 cents on Thursday to end the week at 1,365 cents. The Au$ rose to US $0.682 at the weeks close.  As a result, the EMI in US$ terms actually saw a 9 cent gain for the week to finish at 931 US cents (Table 1).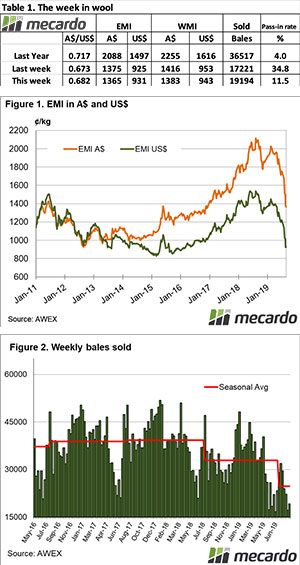 In USD terms the Merino market has basically given up all its gains made since 2015, in the space of 7 months.
It was in Fremantle that AWEX reported a "noticeable change in the room" in the last hour of selling, with strong competition lifting prices. There was an overall loss across all fibres and the Western Market Indicator lost 33 cents on the week to close at 1,383 cents.
Most Merino types saw losses in the range of 10 to 30 cents. Crossbreds and Cardings managed to source some interest. 28 to 30 micron wool recorded gains of 5 to 10 cents, while the Cardings Indicators rose 10 to 30 cents in all three centres.
A significant proportion of sellers withdrew their offering prior to sale. A total of 21,694 bales were offered, of which 11.5% were passed in. Just 19,194 bales were sold for the week. Incredibly, in the seven weeks of this season, 81,731 bales fewer sold than the same period last year and 2018 was already a season of low supply to compare to.
The dollar value for the week was $29.32 million, for a combined value so far this season of $296.49 million.
Prices on the wool forwards market are currently sitting above the spot market, in a rarely seen case of contango. This provides further confidence that the physical market will pick up momentum in the coming weeks.
The week ahead
Was this week a case of a dead cat bounce or have we found the base is the question on everyone's mind. Positive news in the planned resumption of US-China trade talks may have been the pinch of confidence that buyers needed.
Next week 27,923 bales are rostered on offer across Sydney, Melbourne and Fremantle. The following weeks 33,465 bales and 28,654 bales are expected.