Early flush soaked up by offshore players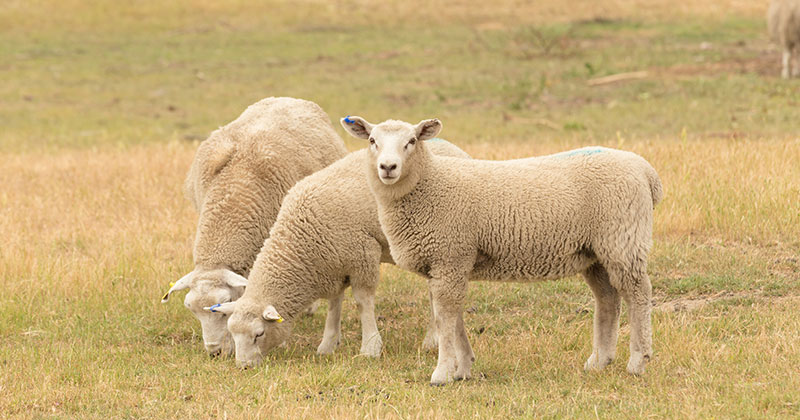 Lamb yarding numbers are starting to climb across the east coast fueled by lifting Victorian throughput as the spring flush gets underway. However, prices are yet to dampen as a resurgence in offshore demand, particularly from China has export buyers scrambling to fill orders.
Weekly east coast yarding levels reached the highest they have been since late July jumping 26% from the prior week and is closing in on 180,000 head (Figure 1). Driving the east coast volume of lamb is the lift in Victorian numbers signalling the early stages of the spring flush.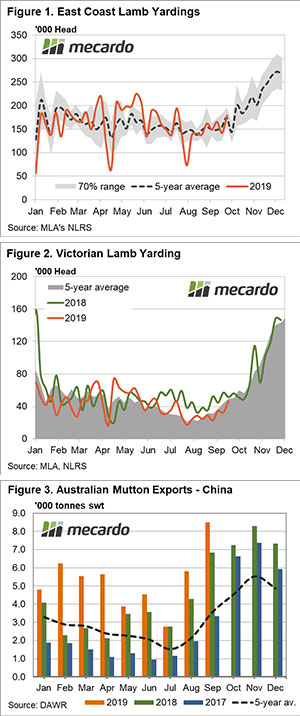 Victorian lamb throughput is 104% up on levels from a month ago and is nearing 50,000 head per week. Despite the additional volumes most categories of Victorian lamb prices increased this week indicating demand is more than compensating for the extra supply (Figure 2).
Indeed, lamb and sheep prices have lifted across all categories reported by NLRS for eastern states indicators, with restocker lambs, light lamb and mutton leading the charge higher. East coast Restocker Lambs posted a 19¢ gain on the week to close at 878¢/kg cwt, Light Lamb is up 20¢ to 800¢ and East coast Mutton is performing exceptionally well (particularly in percentage terms gains) with a 19¢ lift to close at 605¢.
September trade exports figures give us a clue as to why lamb and mutton prices are holding up so well in the face of the start of the spring flush. This is particularly true for flows going to China to fill the protein void created by the African Swine Fever (ASF) epidemic. Mutton flows from Australia to China have increased 208% from July to September and year to date Chinese demand is running 108% above the five-year seasonal trend (Figure 3).
Next week
The strong resurgence in offshore demand for Australian lamb and mutton product is timely given that throughout volumes are set to extend higher as we proceed through spring. The big unknown is how large the appetite from China will grow as we head toward the end of the season.
There is a good chance that an ASF led lift in Chinese demand for mutton and lamb, over and above the normal spring increases in Chinese trade volumes, will see prices underpinned throughout the next few months. This will limit the depth of the traditional spring flush price decline.