ESTLI holds firm despite strong throughput and currency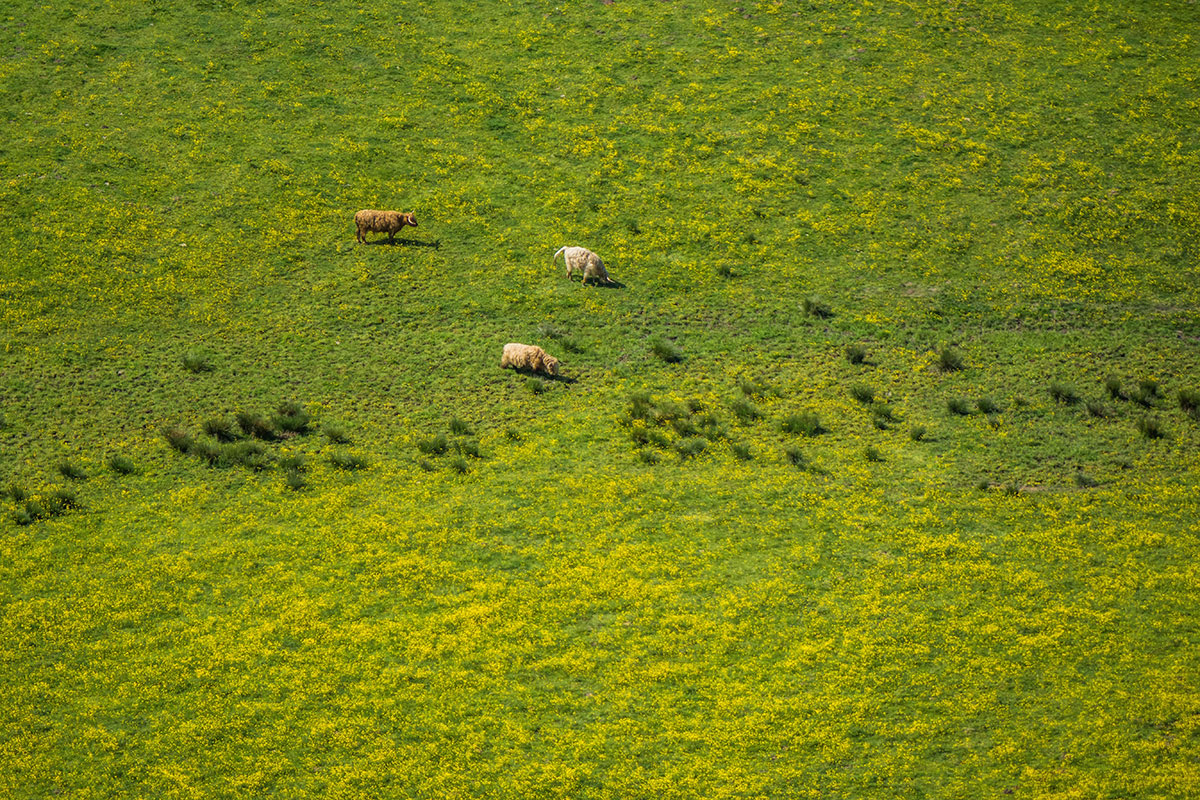 The Eastern States Trade Lamb Indicator (ESTLI)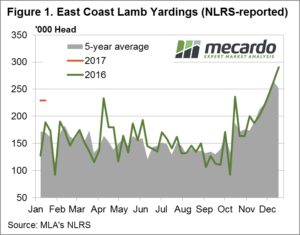 held onto the strong gains since the start of the
year remaining above 600¢/kg cwt this week
in the face of solid lamb throughput figures,
particularly from NSW, and a resurgent A$ –
boosted by a Trump impacted weaker US$.
Figure 1 shows the east coast lamb yarding
figures for this week opening the year at
229,495 head, some 21.6% above the yarding
figures for this time last season and 34.7%
higher than the five-year average. Overall east
coast lamb yardings given a boost from NSW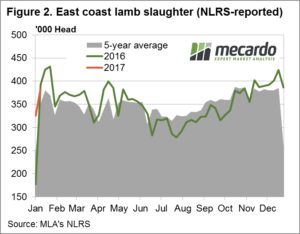 throughput, which came in 26.4% above figures
recorded for this week in 2016 and 58.9% higher
than the five-year average for this time of year.
After a stronger start to the season slaughter figures
have returned to levels consistent with the 2016
pattern – figure 2. East coast lamb slaughter for the
week ending 13th January reported at 382,865 head,
a mere 2.3% below the slaughter figures for the same
week in 2016 and 8.9% above the five-year average
for this time in the season.
The ESTLI closing yesterday at 609¢/kg cwt, a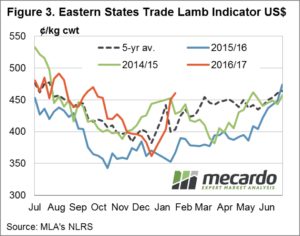 10¢ gain on last week. Not as impressive as the
previous week's rally but a gain nevertheless.
Combined with an A$ 5% higher than where is
finished 2016 this places the ESTLI in US$
terms the highest it has been since September
2016 – figure 3. Despite the recent A$ strength
the currency currently trading at 75.5US¢ is still
below the two-decade average of 76.25US¢.
The Week Ahead
The A$ recovery over the last month has been on
the back of broad US$ weakness with financial
market nervousness setting in as we draw closer
to a President Trump inauguration. Expect regular
currency volatility as the new leader settles in and
his unpredictable style of communication via Twitter
running of the country continues to unnerve the
market. Any significant impact on export demand
for Australian sheep and lamb product unlikely
unless a prolonged period of US$ weakness pushes
the A$ above 85-90US¢.