Flow on effect of virus shakes confidence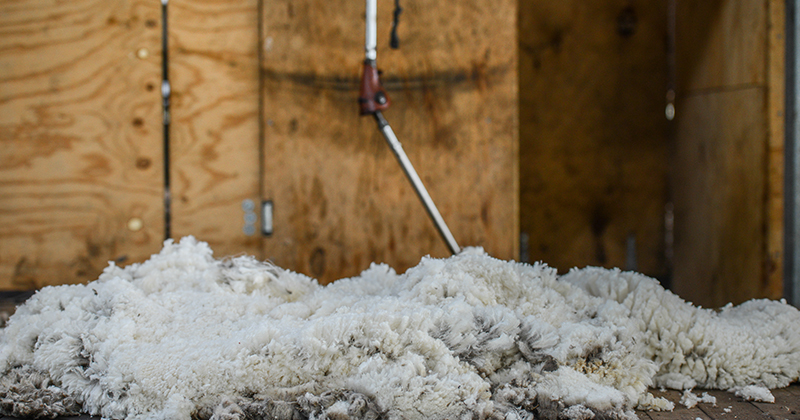 Confidence in the wool market took another hit this week as the flow on effect of the Novel Coronavirus has been rearing its head. Local exporters took their cues from foreign importers who are uncertain due to disruptions in mills and trade flows. The opening drop in the market saw sellers withdraw their wool, prompting a nervous recovery due to the extra pressure on the lots remaining.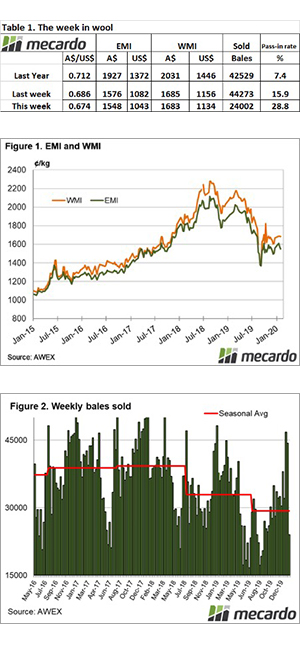 The Eastern Market Indicator (EMI) fell some 56 cents at market open, the largest daily fall since August last year, but regained around half that ground to close at 1,548 cents at weeks' end. The AU$ demonstrated a similar downward trend, stabilizing mid-week before dropping again to close at .67 cents. In US terms, the EMI fell 38 cents to 1,043 cents.
The Western Market Indicator (WMI) had a somewhat gentler descent to close at 1,683 cents. Earlier in the week, Mecardo released an article about the historical impacts of pandemics such as the Novel Coronavirus of recent days. Response measures employed by affected nations are proving disruptive to economies and trade flows. For wool, workforces in overseas mills are being impacted, creating uncertainty for importers of Australian wool, which has a flow on effect to the buying confidence of local exporters.
The national offering of 33,700 bales came forward, but the sharp drop in prices collided with firm seller resistance at weeks start, to see the pass in rate climb to 48.8% before settling at 28.8% nationally at market close. Only 24,002 bales were cleared to the trade, the smallest clearance since September last year. The reduction in quantity put extra pressure on the lots remaining, which sparked the recovery demonstrated on the second selling day.
The dollar value for the week was just $36.63 million, seeing a small adjustment to the combined value so far this season, which is now just over $1.251 billion.
The crossbred types saw the same fate as the other MPGs, with prices first dropping before a recovery at the end of the week. Cardings indicators weathered the storm better, still feeling the blow in the north, but scraping to a small rise in the South and West.
The week ahead
The black swan event of the Novel Coronavirus is something no one wants to see and our thoughts go to families of those directly affected. The market effect of the event coming out of the blue has caused more uncertainty in what looked like a stabilizing market.
The offering posted for next week is lower at 35,849 bales and is a designated superfine sale. The following weeks are posted at 43,570 and 37,726 bales.