Forecasts tease but never please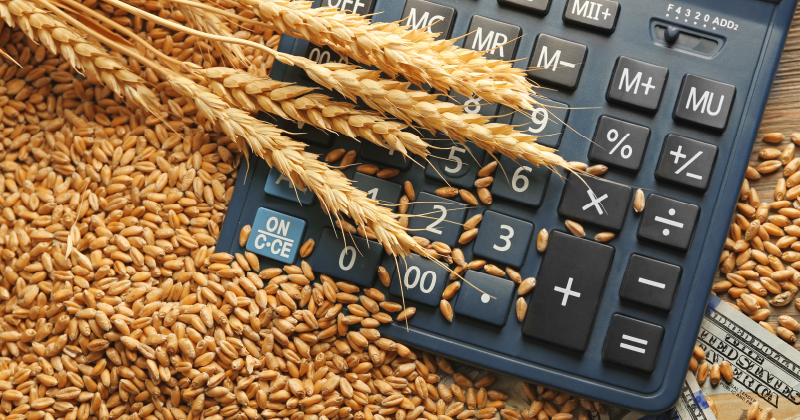 The lack of rain continues to be a weight upon the entire agricultural industry. The forecasts tease moisture, but they never seem to bring much excitement. In this weeks' market comment we look at how consumer jitters have driven the local market.
The forecast rainfall in the past month has tended to look promising but not deliver. This has started to cause consternation to everyone in the industry. The lack of rainfall has brought a decent rise in Australian values, with ASX January 2020 futures rising 4% or A$14.5/mt (figure 1). This returns the contract to levels seen in early March.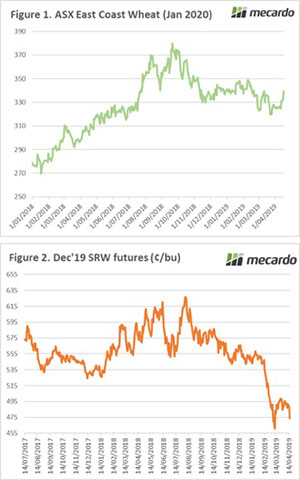 This buying by consumers is an attempt to ensure that they have some cover as we start the new season marketing period. There is still great uncertainty on how the season will transpire, however, the memory of the past year is fresh – and A$339 is more attractive than a possible >A$400.
Although still insulated from events overseas, it is important to maintain an eye on the offshore markets. The Chicago futures market took a tumble on Wednesday night dropping 3% or A$7 on the December contract (figure 2).
The fall in US values is attributed to continuing strong conditions for the US winter wheat crop, with 60% rates as good/excellent. This is 29% above this time last year and 16% on the 5-year average. This bodes well for the US crop, although seeding pace for spring crop has been hampered by inclement weather.
The Americans, however, are not alone when it comes to positive outlooks. Our Russian competitors are in good shape, with analysts predicting another high production year – at 83.4mmt. This would place the crop at the second largest and ensure another year of strong exports out of the nation.
Germany had a poor year in 2018 due to drought, however, production is expected to rebound this year with a jump of 21% to 24.44mmt.
These conditions all point towards a generally bearish tone to the international market, however at present we continue to be more concerned about the local crop.
On another note, If you are looking for something to listen to whilst seeding – give our podcast a shot:
Click here
What does it mean/next week?:
It will be a short week due to the Easter holiday and ANZAC commemoration.
It cannot be said enough that the Australian market is driven by risks of a second drought. If this eventuates then our prices will be extremely high, although that is not a great result as we will have a reduced volume to sell.
If we see an average or above average season, then we are likely to experience some downward pressure in the second half of the year.