Forward contracts breaking with tradition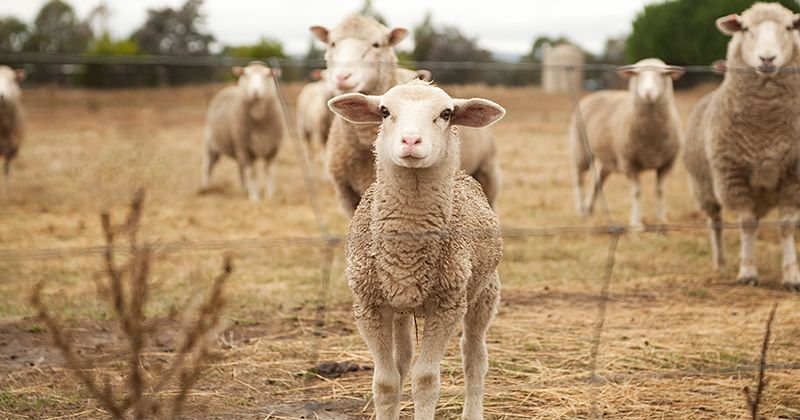 With rising concerns surrounding the supply of finished lambs during the summer, export processors have released forward contracts. We say the forward contracts are breaking with tradition because they are pegged well above the prices of the same time last year, which they no doubt had to be if they wanted to get any traction.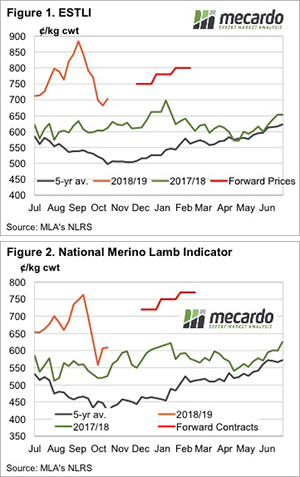 The widely published forward contracts came from Thomas Foods International (TFI) who released the same prices for their Tamworth and Lobethal plants, for delivery from the start of December to the end of February.  TFI priced both crossbred and Merino lambs at levels well above the summer of 16-17, but below the recent peaks of September.
TFI's December price for crossbreds was 750¢, rising to 780¢ in January and 800¢/kg cwt in February.  Merino lambs are 30¢ behind, and all are for 18-32kg cwt lambs.  These are extraordinary levels for lambs and will be a boon for those who can finish lambs on green feed.  For those who have to feed grain to lambs, the forward prices should be profitable, and hence this is part of the reason they are pitched there.
Over the last few years lamb forward contracts have been available for the summer, and are generally released at this time of year, and pitched close to the levels of the previous year.   The thinking is that prices are usually low in spring, and forwards around last year's prices are generally acceptable to producers.
This year pricing forwards even at 700¢ would be unlikely to get much take up.  With spring prices sitting around 700¢, and prices over 850¢ a recent memory, few producers would be willing to accept a 650-700¢ forward price.
Figure 1 shows where the crossbred forward prices sit relative to last year, the five year average, and recent prices.  They are 12 and 28% above last year's Eastern States Trade Lamb Indicator (ESTLI) depending on when you are selling.
Figure 2 shows the same chart but for Merino lambs.  The National Merino Lamb Indicator (NMLI) has never been above the 770¢ on offer in February.  Merino contract prices are between 19 and 35% above last year, and look like even better value.
What does it mean/next week?:
If producers are confident they'll have lambs for delivery in the December to January period, why wouldn't they take up forward contracts for at least some of their supply?  For it to be a costly mistake, lamb prices will have to be consistently over 800¢ throughout the summer.
While its likely lambs will get over 800¢ at some stage, having the price and delivery locked in means there will be no hanging out for better values.  For Merino lambs selling forward should be seriously considered, as higher prices are even rarer.
With forward contracts for many weeks now booked up at TFI, producers seem to have been happy to get on board and lock prices in.
Key Points
Lamb forward contract for summer have been released.
December price for crossbreds was 750¢
Merino lambs are 30¢ behind