Frost is a pain in the stem
For those into pop culture references, the term 'Winter is coming' has been prevalent in recent years. We are officially past winter now, but that hasn't stopped the frost. Our friends in NSW just can't seem to get a break this year.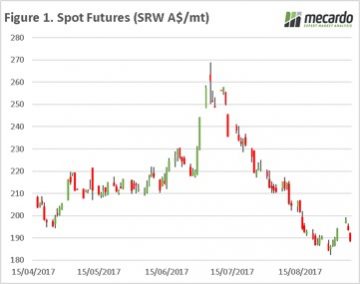 The US were busy celebrating labor day on Monday, well at least those not bracing for (or recovering from) Hurricanes. The market had a strong recovery prior to the holiday, with short sellers taking profits after a continuous decline over the past month (figure 1), however over the past two sessions the market has lost around half of these gains. The market was not helped by the Food and Agriculture Organisation raising its expectations for the global cereals crop to 2.6bmt, which would be the highest on record.
The Australian crop has gone from bad to worse. NSW, which has struggled since seeding with a lack of moisture, has now been impacted by unusually severe frosts. The impact of a likely drop in supply has led prices to follow the theoretical logic of basis perfectly.
In the past week, we have witnessed basis levels increase dramatically (figure 2). In this data set it is most markedly so in Port Kembla, where the crops are likely to be most impacted.  The other zones on the east coast have also risen considerably, and flows are now likely from southern to northern areas.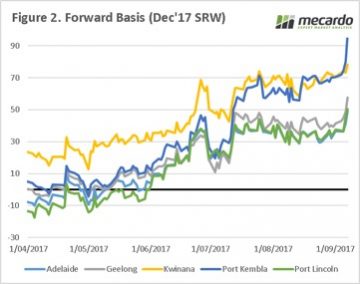 In figure 3, the basis levels as a percentage of the overall price are plotted. As we can see, there have been considerable rises in all zones. The rise was far more sedate in Kwinana, which has for the past 8 weeks maintained at strong levels, and the bulk of issues in the WA crop have been priced in. The basis levels as a percentage of the price in Kwinana and Port Kembla are now at historically high levels.
Next Week/What does this mean?

We have a double whammy on Tuesday. The USDA and ABARES release their crop estimated for September.
There have been a number of issues in Australia, however I expect ABARES to take a relatively conservative approach to any drops in production.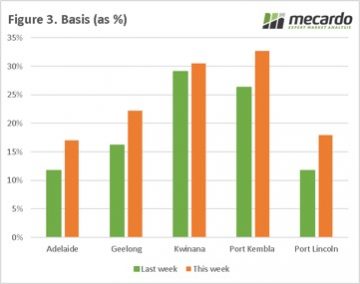 The key will be the USDA report, will there be any surprises? The recent upgrades to the Russian crop will likely give a bearish edge to the report.