Geopolitics at the fore.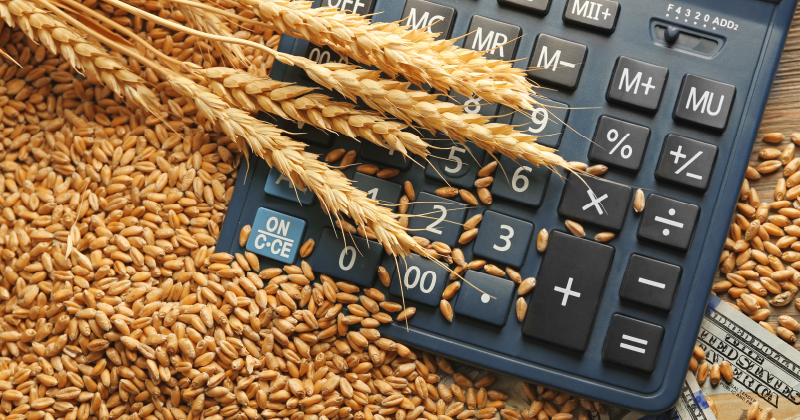 It's been an interesting week, with geopolitics front and centre. Early in the week, we had a fracas between Russia and Ukraine and today the leaders of the world meet for G20 talks. In this comment, we look back at the big drivers in the market.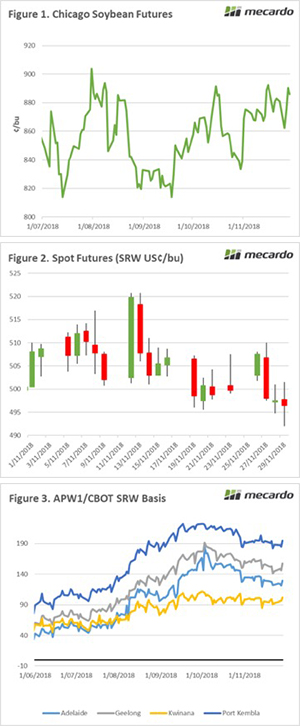 This weekend the leaders of the G20 will meet in Buenos Aires. This could be a very interesting meeting, with the US-China and Russia-Ukraine issues being a considerable talking point. The market has reacted to the potential for positive discussions between Trump and Xi with Soybeans up 3% or 24¢/bu (Figure 1).
The US soybean market has fallen dramatically since China announced tariffs against imports, which in turn resulted in Brazilian exports trading at a strong premium to the US. There are expectations that positive conversations would lead to a relaxation of the current tariff structure.
Chicago wheat futures fell to end the week down 2% or A$8.9/mt (Figure 2). The concerns of distribution to trade flows in the black sea have largely been removed from the market (see Crimea River), as ports in the affected region on export <10% of the Ukrainian crop.
The planted area for the 2019 wheat is expected to be high. Russian winter plantings are expected to reach record levels this season, which although there is a long time until harvesting does point towards the potential for another strong year of production.
Due to the China-US tariff scuffle, soybeans are being held in storage which is becoming a concern for prices during the 2019 season. It is expected that after a 100 year low in wheat planting for last year, we will see a resurgence of wheat acreage.

In the past week, local prices have risen whilst Chicago has dropped, therefore providing an improvement in basis levels (Figure 3). At present, farmers are reluctant sellers, especially with the stop-start harvest that we are currently experiencing.
It is important to remember that these basis levels (or premiums) over Chicago are very strong (see This isn't the new level). As grower selling starts to increase we may see a decline in premiums, albeit still remaining at historically high levels.
What does it mean/next week?:
If we see a positive meeting between Xi and Trump, we are likely to see a positive impact on markets. There are concerns that continued tariff restrictions between China and the US will have wider economic ramifications, an easing of the tariffs will lead to increased confidence.