Good demand on larger offering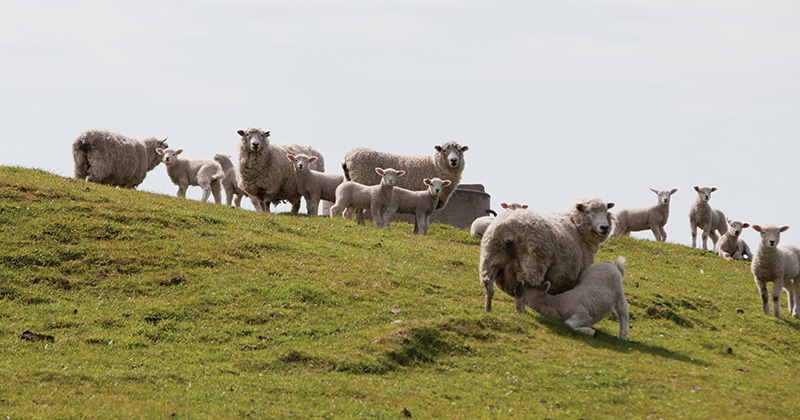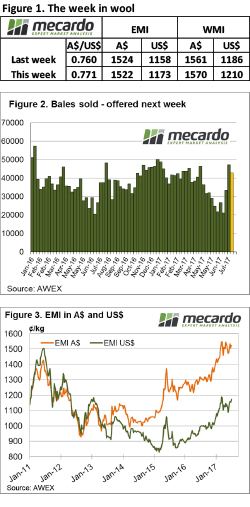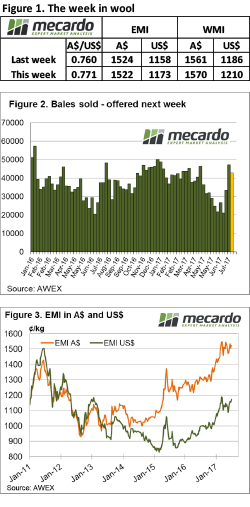 It seems wool growers are selling as soon as the wool is shorn, with another large offering coming forward. Despite this, the market performed well despite receiving no help from a rising A$. AWEX report that W.A.'s unseasonaly dry weather has seen growers bringing forward shearing causing the increase in supply this week.
The increase in the Fremantle offering resulted in 46,400 bales offered, with 42,900 sold and 7.7% passed in.
The market was strong, although the finer than 17.5 MPG and the 21 MPG and broader were the leaders. In other categories, crossbred types experienced good price rises of 10 to 20 cents, however the Cardings indicator fell in all centres by 10 to 25 cents.
While the EMI lost 2 cents in the auction, the stronger levels of A$ quoted yesterday at US$0.77 meant that the EMI actually rallied US$0.15.
The sale result this week is a perfect result leading into the recess. Buyers were able to secure plenty of wool and buyers paid higher US$ prices. This sets the scene for exporters to visit customers over the recess and secure orders for the resumption of sales in a climate of optimism; always a much better position that when sales end on a downturn prior to a break.
A note about the crossbred rally this week; while all types experienced price increases it was the better prepared lots that were most keenly sought out. It pays to now spend some time on preparing crossbred wool in the woolshed, as this will either improve the price compared to poorly prepared lots or at the least increase competition.
The week ahead
The market now enters a three-week recess, with sales resuming on the week beginning 7th August in Fremantle, Melbourne & Sydney.
Based on this weeks competition the market should open well in three weeks time, especially if the A$ can lose a little ground.