Higher supply after Easter break doesn't dampen prices

A recovery in slaughter figures as we move away from the shortened Easter and ANZAC weeks noted, but not enough to dampen demand as prices for young, store and heavy cattle lift slightly over the week.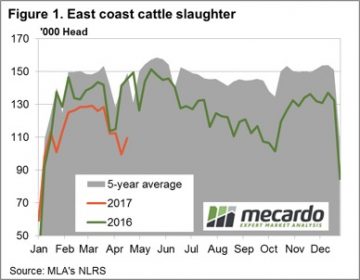 Figure 1 shows the seasonal pattern for East coast slaughter for the week ending 21st April. While the numbers don't yet represent the shortened ANZAC week it is still clear to see the recovery in supply after the Easter dip. East coast slaughter for the week rising to 109,500 head, a 10% increase from the previous release.
Improved throughput and slaughter unable to weigh too heavily on prices with the Eastern Young Cattle Indicator (EYCI) lifting slightly to close nearly 9¢ higher at 659¢/kg cwt. East coast heavy steers showing a similar lift up 7¢ to 308¢/kg lwt, or 571¢/kg cwt (at a dressing percentage of 54%). Trade steers only managing a marginal increase with a 2¢ gain to 357¢/kg lwt, or 661¢/kg cwt – figure 2.
The week ahead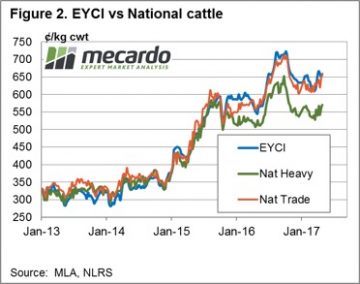 A forecast for some light rainfall for parts of Queensland and Victoria over the next week shouldn't be enough to hamper transport so supply of cattle should continue to improve post Easter. Meanwhile, reduced beef cold storage levels for April in the US as they head into their "grilling season" should see the beef export prices supported in the coming weeks and will provide some encouragement to local processors on any price dips. These two factors set the stage for some price consolidation around the 650¢ level for the EYCI in the short term.