"I would rather be selling than buying in this market!"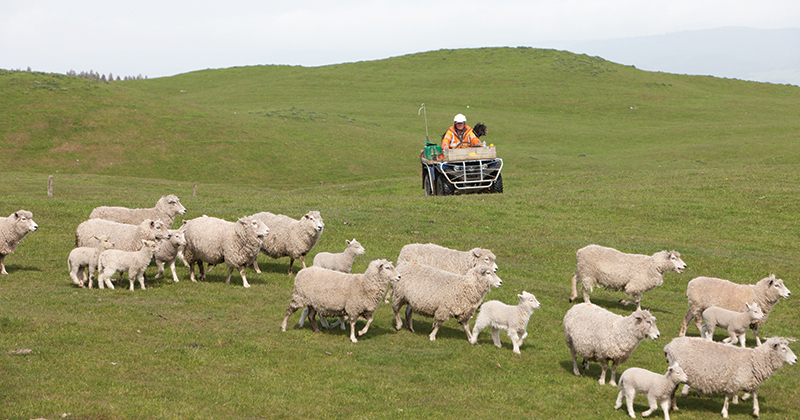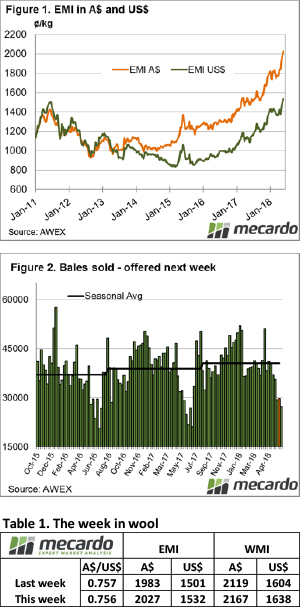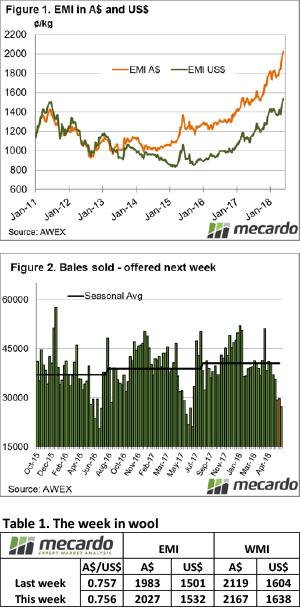 Who would have thought that 2,000 cents were possible for the EMI, or that only the 25 MPG and broader would sit below the 2000 cent level?
This wool selling season the EMI has lifted a massive 38%. In June 2017, it was quoted by AWEX at 1472 cents and this week settled at 2027 cents.
At the Campbelltown Show last week (by the way it was the 180th consecutive show, a fantastic effort by present and past show presidents and committee to achieve this over such a long time), a story was recounted to me that a couple of years ago at an AWI meeting one of the members suggested that 2000 cents was possible in 2018!
He was told by others at the meeting that while possible, don't tell anyone because it sounds too far-fetched!
This week another small offering came forward, with just 30,329 offered to the trade. At a pass in rate of 2.3%, this meant 29,729 bales were cleared. This is 11,000 bales fewer than the weekly average of almost 41,000 bales for this season.
AWEX reported that buyers "had to work hard" to secure their volumes, and showed little regard for style and specifications. As supply has declined the discounts from earlier in the season for lower style and spec wool have declined.
It was also a new record for the EMI this week in US$ terms, breaking the previous level of 1504 set in June 2011, the increase this week of 32 cents pushed the US$EMI to 1,533 cents (Figure 1). The Australian dollar had a stable week, trading at US$0.757.
The Western Market Indicator (WMI) rose 48 cents on the week to post another record of 2167 cents.
To add some perspective, on this selling week, 20 years ago (1998) the 19 MPG was 945 cents and the 21 MPG 639 cents; they have lifted 147% & 254%, respectively (Table2).
Fine wool volumes have risen relative to the rest of the clip over this period and consequently, medium merino wool has declined. This is reflected in the price movements with the larger % improvements across the traditional medium to broad MPG categories.
The stand-out performer over this period is the Cardings sector; a 340% lift over 20 years is quite remarkable and signals strong demand for shorter wool.


The week ahead
Fremantle market has next week off, so only 27,270 bales are rostered, with 32,000 and 26,000 listed for selling weeks 50 & 51.
We are in unchartered waters so predictions are difficult, but it is hard not to be excited by this market. As a knowledgeable wool person in Tasmania said, "I would rather be selling than buying in this market!".