Is retail lamb set to rise?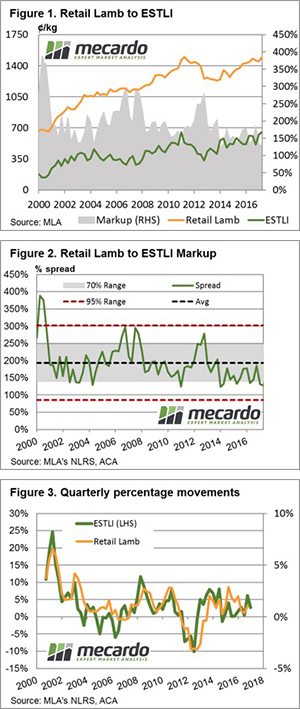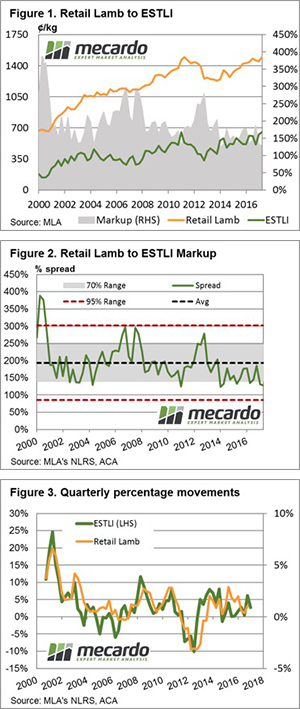 It will come as no surprise that retail lamb prices follow the saleyard and with lamb prices holding their ground into Spring this piece takes a look at what that may mean for the end consumer into the coming season.
Figure 1 highlights the price pattern since 2000 for both retail lamb prices and the Eastern States Trade Lamb Indicator (ESTLI). Progressive seasons from 2013 onwards have seen saleyard lamb prices make successive higher peaks and troughs. Indeed, lamb producers have been enjoying some record results during the period, with the quarterly average ESTLI increasing 98% from 331¢ in quarter four of 2012 to 657¢ as at the second quarter of 2017.
Retail prices have also gained during the 2013-2017 period, although competitive pressures at the supermarket and butcher shop have meant that retail lamb prices have only managed a 19.8% gain from $12.52 in quarter four of 2012 to $15.01 for quarter two of 2017. This has meant the retail mark-up over the saleyard price has narrowed from 278% to 128% over the four-year period.
Figure 2 highlights the narrowing of the mark-up, such that the most recent quarters figures see the mark-up percentage sitting below the normal range and just a fraction above the lowest recorded mark-up since 2000 at 123% during quarter one of 2014.  Indeed, the current mark-up of 128% is 34% below the long-term average mark-up measured since 2000 of 194%. As the grey banding demonstrates the mark-up has fluctuated between 139% and 247% for 70% of the time from 2000 to 2017.
A time series analysis of the percentage movement over the quarter for the ESTLI and retail lamb prices shows that retail lamb price movements lag the saleyard – figure 3. The narrowing of the mark-up between retail lamb and saleyard lamb prices below the normal range suggest that either saleyard prices need to ease or retail prices have to increase in order for the mark-up to get back into the normal range.
What does this mean?
Given the tight supply scenario is going to be maintained into the 2018 season and we have seen an improvement from the unseasonal dry Winter to more average climatic conditions as the 2017 season comes to an end its unlikely that the saleyard lamb prices are going to come under significant pressure.
This suggests that retail lamb prices are set to probe higher in the coming months unless retail competition can keep margins tight – maybe it is time to accept the dinner invitation with Tom Cruise instead of having the lamb roast at home!
Key points:
The retail percentage mark-up of retail lamb prices over the ESTLI has narrowed 54% since 2013
The most recent quarterly mark-up is sitting at 128%, 34% under the long-term average mark-up and is below the normal range recorded since 2000 between 139% and 247%
Forecast supply and climatic conditions into 2018 suggest that a widening of the mark-up is more likely to come from higher retail lamb prices rather than softer saleyard prices