Is the market right for a forward contract?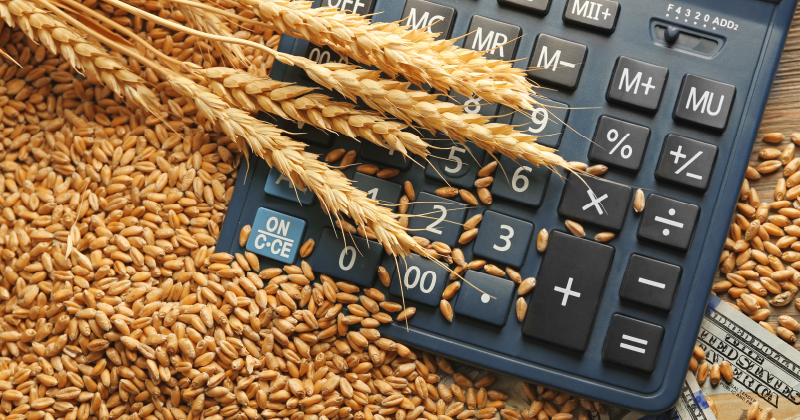 It is important to keep an eye on the market for pricing opportunities, especially beyond the current season.

In the past few years, there have been excellent opportunities at this point of the year to lock in strong futures levels, especially offshore. How does it stack up for producers at the moment?
Firstly, let's look at CBOT wheat. After a strong rally the market has stalled whilst awaiting new data. At present that market is not yet at the highs of last year, but with corn acreage likely to be radically altered in the coming weeks. This makes an opportune time to start putting together a strategy for pricing.
At present the Chicago wheat market is in contango (Figure 1), which means that forward months of the market are at a premium to the spot (present) market. The December wheat contract is currently trading at A$273/mt. Taking out a futures contract (or swap) at this level will protect you from any downside in the futures market, whilst still retaining any exposure to basis. We expect that basis will remain quite strong this year in many parts of the country due to an average crop coming off the back of a poor crop.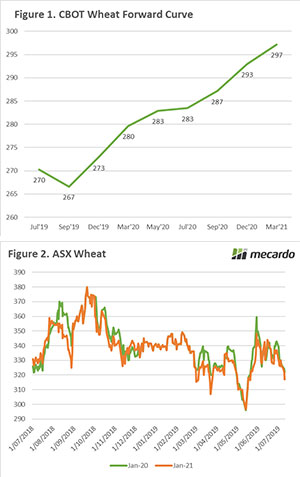 However, when we look further out to next December (2020), we can see that the futures contract is trading at A$293/mt. This may be a more attractive proposition when using CBOT futures as it provides a level which will most likely end with an overall price well above A$300/mt when basis is added.
CBOT is a good tool for using, but there are also the ASX futures, which have been gaining more volume in recent times – as drought has bit. The ASX contract has fallen in recent weeks as local conditions improve and consumers step back from the market.
The contracts for both Jan 2020 and Jan 2021 (figure 2) are both trading at similar levels of A$322 and A$317 respectively. A far cry from last September when our advice was to lock in contracts at A$370-380. However, this does still provide levels which are reasonably attractive.
What does it mean/next week?:
Price risk management is not about hitting the top of the market, it is about locking in a level or protecting yourself from adverse movements.
I tend to advocate a small bite size approach, where you take small positions in the market when it is attractive. This will protect you from downside whilst still providing some opportunity to participate in any upside.
Key Points
Chicago wheat futures are offering A$273 for this December and A$293 for the following.
ASX wheat futures are offering A$322 for this January and A$317 for the following.