It's a great time to be a wool producer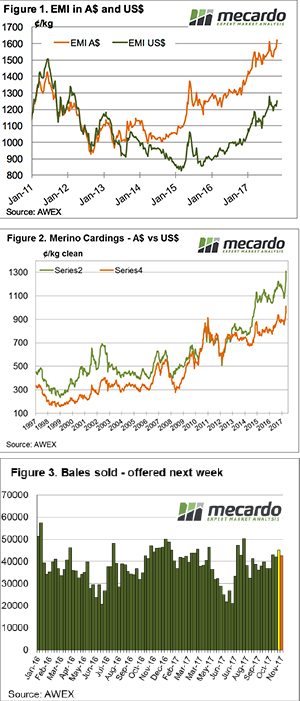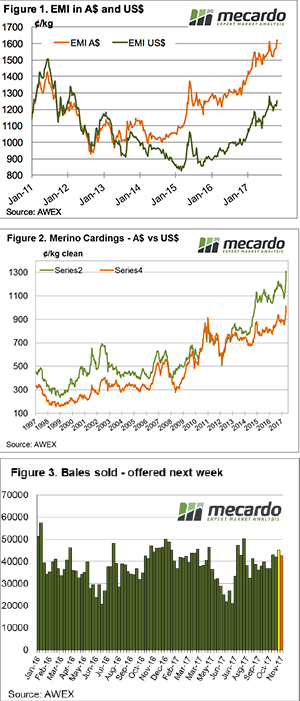 With one of the larger offerings for this year the market performed very strongly this week. Every category posted gains. Records were set with the 19.5 MPG posting its highest level since its 2001 listing, and cardings topping 1300 cents in Melbourne, a record against our records going back to 2002.
The Eastern Market Indicator (EMI) rose 45¢ on the week to 1,623¢ with AWEX reporting this a new record high in Australian dollar terms. The Australian dollar was unchanged on the week, with the EMI in US$ terms posting a rise also of 35¢ to end the week at 1,252¢. The EMI in US$ terms is edging however it is still well off its previous record of 1504 cents set in July 2011.
Only 2.2% of the offered bales were passed-in, resulting 45,193 bales cleared to the trade. Again, this is a strong signal of the strength of the current market.
Whether these prices are a result of AWI market initiatives, or a response to reduced supply, or maybe just a normal improvement in the demand cycle, growers who have wool to sell now are receiving "best ever" wool cheques.
The rally also carried across to the inferior types; as is usual in a strong rally, wool carrying higher mid-breaks, or lower tensile strength, or greater VM got carried along by the surging market.
We are now at levels where predictions of future price directions become a bit of a guessing game. Will buyers (more importantly their customer processors overseas) pull back from this rally and we see the market retrace, or is this rally unstoppable and further increases are imminent?
Either way, wool growers should continue to sell as soon as wool is tested, and also take a close scrutiny of forward price bids to look for cover for some production for future clips.
The week ahead
42,722 bales are rostered for sale next week across the three selling centres (Figure 3). The roster lists 44,000 and 40,000 for the following weeks; based on current demand this should pose little challenge for the market to absorb.