It's a topsy turvy market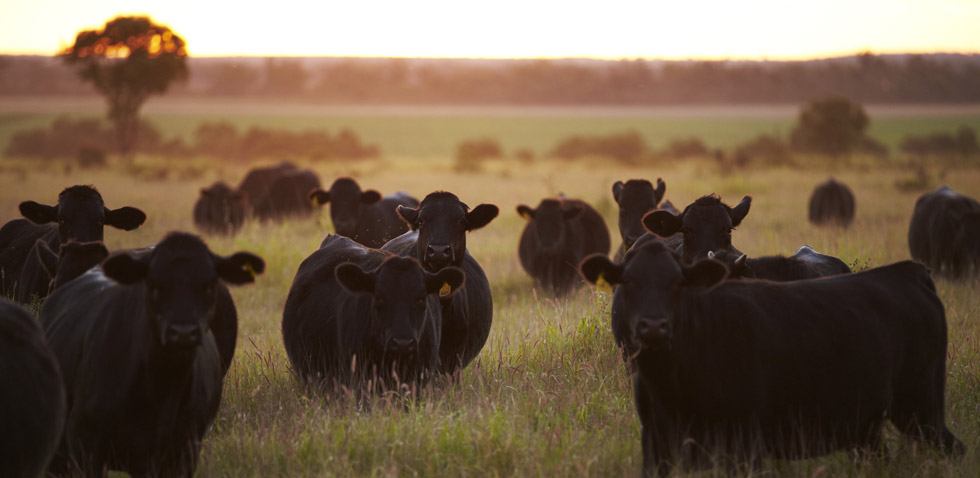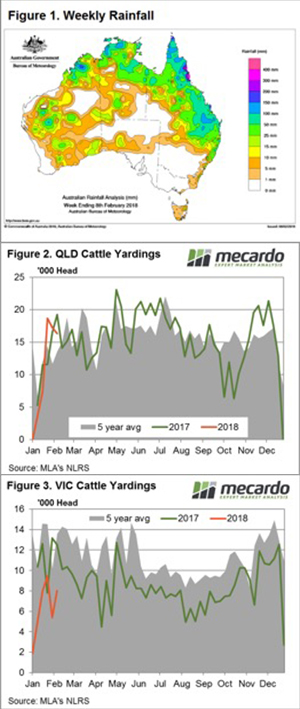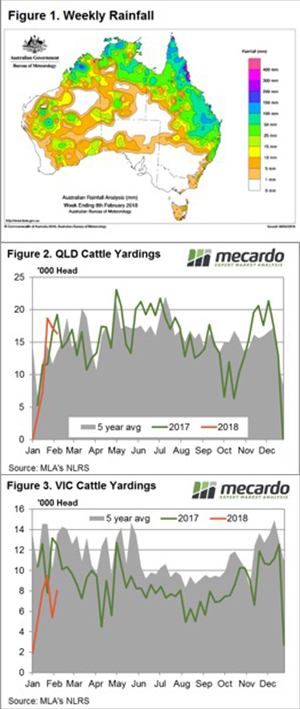 Some very solid rainfall in Queensland this week, yet this was unable to inspire trade cattle prices there as high throughput weighs on the market. In contrast, NSW and Victoria broadly missed out on any rain yet surprisingly throughput was below average and trade cattle prices firmed.  
Figure 1 highlights the rainfall pattern for the past week, showing good tracts of central Queensland recorded falls in excess of 50mm, but not much in the way for central to southern NSW nor Victoria. NLRS reported state sale yard figures during the week were a bit of a mixed bag, although the Trade Steer category showed some peculiar divergences along the East coast.
Queensland Trade Steers softening 4.6% on the week to sit at 269¢/kg lwt, the worst performing category across the state. While in NSW Trade Steers lifted 5% to 287¢/kg lwt, nearly the best performing category there, only pipped by NSW Restocker Steers – up 5.9% to 309¢/kg lwt.
Further south Victorian Trade Steers fared even better with a 6.3% gain to see them fetching 287¢/kg lwt. Mirroring the NSW experience by only being outdone by Vic Restocker Steers up 8% to 285¢/kg lwt. Given the lack of rain in the south and the expectation that pasture in this area at this time of year not generally at its best you would expect less robust Restocker activity.
Figures 2 and 3 suggest the reasoning behind the opposite price reactions is a question of sale yard throughput with Queensland yardings trekking above average for this time in the year, while Victorian figures are un-seasonally low.
Young cattle prices across the nation a little uninspiring on the with the benchmark Eastern Young Cattle Indicator (EYCI) trekking sideways, up a mere 0.7% to 538¢/kg cwt. Out West the WYCI similarly unresponsive with a meagre 0.5% decline to 570¢/kg cwt.
What does it mean/next week?:
The 90CL frozen cow continue to grind higher (pun intended) with a 1.1% gain to 575¢/kg CIF and reports out of the USA continue to point to robust domestic demand and strong export buying. This should be enough to continue to see the EYCI reasonably well supported in the coming week.
No clear sign of the anticipated wetter February for the South East of the nation at this stage although fingers are crossed Victoria and NSW for a bit of respite as we head towards the end of February as a bit of rain will give cattle prices a further boost.