It's all still to play for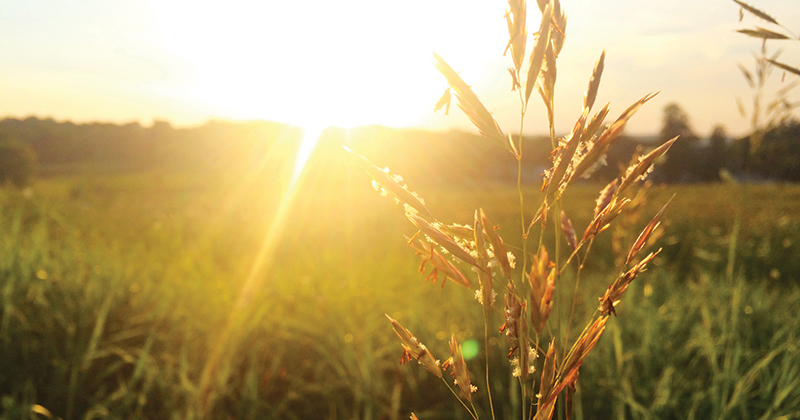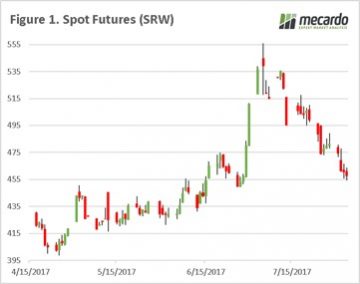 The first week in August. This month is one of the most important in the cropping year, as we will have increased certainty on the rest of the world's crop, and start to gain greater clarity on how good (or bad) Australia is going to be come December. It is the knife edge time of year.
The global markets over the past week have continued to decline (figure 1). In straight futures, the market is now down to levels below the June/July rally, in the past week in A$ the fall has been $10.
In figure 2, we have shown the three US futures contracts, converted into A$. We can see that all futures have fallen considerably. The premium between SRW/HRW and HRS continues to trade at a strong level, this is as expected due to the poor growing season which corresponds with the hard red spring contract. The issues around the world when it comes to wheat are largely around quality, particularly the lack of high protein wheats. At present low protein wheats are still in strong supply.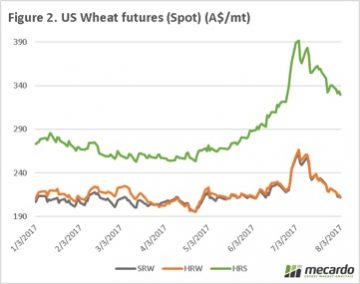 At a local level flat price around the country have fallen since a peak on the 11th of July (figure 3). During the first week of July all port zones were able to achieve historically competitive prices, however few growers have taken advantage of the prices available. Since the 11th, across all ports in figure 3, the price has dropped by $32 per mt.
At present the 'Garden of eden' prize in Australia currently resides with Victoria, with crops progressing well and receiving beneficial rain in recent days. However, other areas of the country are not in such great shape. If conditions deteriorate around the country, we would expect basis levels to bolster.
Next Week
The next couple of weeks will be instrumental in developing the Australian crop, and at this point in time the range of possibilities is as wide (15-21.5mmt). What falls from the heavens will determine where we end the year.