Japanese tariff hike supportive but not game changing
The last week has seen some interesting events in the international beef trade.  The good for Australia was the increasing of tariffs on US frozen beef exports to Japan.  The bad and the ugly was the Chinese temporary ban on beef and lamb exports from six Australian meat processing plants.  We'll try and make some sense of how the Japanese tariffs might impact on cattle prices, China will have to wait until next week.
The background to the Japanese tariff increase for US frozen beef is a lot to read.  The gist of it is that the year on year increase in imports of US frozen beef for the April to June period was large enough to trigger Japan's 'safeguard' mechanism, and send tariffs for that segment of the market from 38.5% to 50%.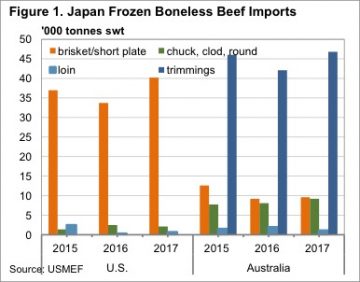 According to the US Meat Export Federation (USMEF), who have produced an excellent fact sheet, a vast majority of US frozen beef exports to Japan are grainfed brisket and short plate cuts.  These cuts are used in gyudon beef bowl chain restaurants.
Australia's frozen beef exports to Japan are made up primarily of grassfed trimmings, as shown in figure 1, with brisket/short plate cuts at just 26% of the US volume.  It's not as simple as increasing prices of US beef shifting demand for that type of cut to Australia, as we simply don't have that amount of beef available for export.
The likely result of the increase in US tariffs is stronger demand for brisket and short plate cuts from Australia, and higher prices, while US processors will receive lower prices, to account for the tariff increase.  Japanese consumers are likely to suffer as some of the increase is passed onto them.
The USMEF have also outlined the risk of a shift to chilled brisket and short plate imports, which could trigger the safeguard for US chilled beef.  Chilled beef makes up 55% of US exports to Japan, so to trigger the safeguard on this would be even more disastrous for US beef.
Key points:
Japan have triggered a safeguard increase in tariffs on US frozen beef imports.
Most of the frozen beef the US export to Japan is short plate or brisket, a smaller part of Australian exports.
The increase in US tariffs will be supportive of our beef export prices to Japan, but unlikely to have too much impact at saleyard level.
What does this mean?
The USMEF calculate that the tariff increase will equate to an effective 8% increase in the price of US frozen short plate/brisket.  The best case scenario for Australian beef exporters is an 8% increase in frozen brisket cuts.  Brisket cuts generally account for around 10kgs of beef in an export slaughter animal.  The latest quote from MLA for frozen brisket to Japan was 598¢/kg, an 8% increase would add 48¢.
The net result on a heavy steer would be $4.80 per head in increased value.  Not a huge benefit, accounting for just 1.5¢/kg cwt.  There is likely to be some spinoff benefits for other beef categories, as higher prices cause some demand shift towards chilled and other frozen cuts.
Heavy slaughter cattle should find some support from higher prices triggered by the increase in US tariffs, but it's unlikely to outweigh too many of the headwinds the market is currently facing.