Lift in QLD throughput brings East coast back to average
Robust northern cattle prices are attracting stock to the saleyards again this week in Queensland. Although, East coast throughput is sitting at fairly average levels for this time of the season as higher than average northern states yardings are offset by below average levels in the southern states.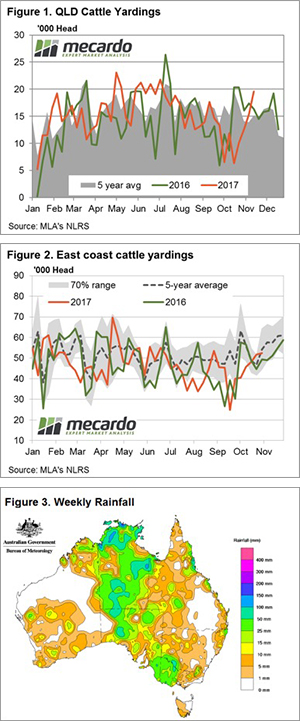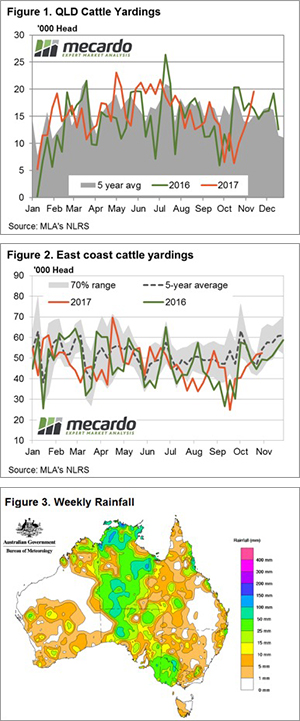 Figure 1 shows the steady rise in Queensland cattle yardings since mid-October and based off last week's figures we saw another 27% gain in cattle at the saleyards this week. Queensland Restocker, Feeder, Vealer, Medium and Heavy Steers all fetching the strongest prices for their categories across the country this week, so it is probably no surprise that we are seeing producers bring forward supply in the Sunshine State.
Queensland yardings sitting 28% above the five-year average for this time of the season and the above average throughput in Queensland and NSW, which has this week's throughput 7.5% higher than average, has been offset by lower than average throughput in Victoria and South Australia, at 46% and 40% below their respective average levels. This combination of East Coast yarding levels offsetting each other, saw broader throughput at just 3% below the five-year average for this week in the season – figure 2.
National saleyard cattle prices were relatively subdued this week, with most indicators not varying beyond a plus or minus 2% swing. The Eastern Young Cattle Indicator (EYCI) is virtually unchanged on the week at 578.5¢/kg cwt, while the softest national category was the Heavy Steer Indicator, off 2.3% to 279¢/kg lwt. National Trade Steers were the best performers, closing up 1.8% to 304¢/kg lwt.
In the West, young cattle fared a little better with a 3.6% rally to nearly match the EYCI level, to rest at 575¢/kg cwt. The benchmark beef export indicator, the 90CL frozen cow, finished the week back above 600¢ for the first time in seventeen weeks.
The week ahead
Some very good falls were noted through SA, NT and Western Victoria noted this week (figure 3) and the forecast for next week is for further rain to cover much of Queensland, NSW and Eastern Victoria with levels noted between 50-100 mm in many places.
Good coverage like this and solid export price levels will mean it's unlikely to see cattle prices soften too much across the nations for the short term.