Lotfeeders feeling the squeeze.
December wasn't a great month for cattle feeders. After a brief reprieve at the start of the month, rising input costs coincided with falling finished cattle prices to see another intense squeeze on margins. Tightening lotfeeder margins are not good news for those producing young cattle either, and for this, the first cattle article of 2018, we'll see if we can find any respite in the coming months.
Figure 1 shows the main problem for cattle lotfeeders and the cattle market in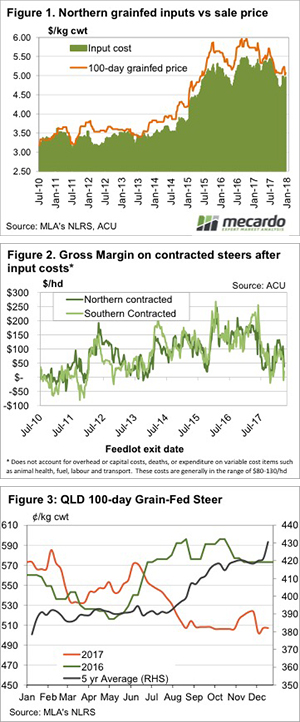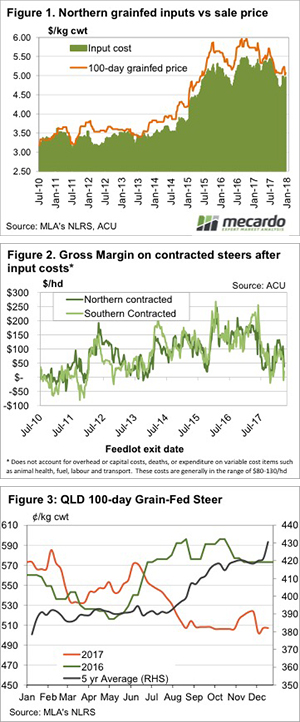 general. After a small, and short-lived, bounce back to the 520¢ level in late November, the Queensland 100 day Grainfed Steer price has resumed its downward trend, finishing the 2017 at 507¢/kg cwt.
The Grainfed Cattle price is not only close to a 3 year low, it's 7.5%, or 40¢ lower than this time last year.  For a 340kg lwt steer, the lower price means lotfeeders are receiving $136/hd less than this time last year.  The quarterly feedlot survey gives a pretty good idea as to why grainfed cattle prices are weaker. With still over 1 million head of cattle on feed at the end of September, supply is strong and consistent. There is little scope for lotfeeders to hold back supply in order to support prices.
On the input side, lotfeeders are seeing little in the way of positive news. The spike in fed cattle values in late November saw feeder values also jump. The shortfed feeder lifted 19¢ from October lows, to hit 302¢/kg lwt. It has since lost 6¢, but remains relatively strong.
Medium fed feeders have performed similarly, but have held their price at the top, finishing 2017 at 320¢/kg lwt. This, along with the falling grainfed prices, pushed margins for Riverina lotfeeders into negative territory in early December. A fall in feed grain prices due to some harvest pressure saw gross margins back at $20 per head (figure 2) late in December, but this is still a long way from turning a profit after overheads.
There might be a little positive news on the horizon for lotfeeders. On average Grainfed Steer prices rally 4% in January (figure 3) as Japanese demand ramps up. We haven't really seen this in the last two years, as prices have eased from highs, but given we're starting at a 3 year low, there is some scope for higher values.
Key points:
Lotfeeder margins finished 2017 at weak levels as Grainfed cattle prices were close to a 3 year low.
Feeder values held on to their early December levels, but will come under pressure.
There is some scope for a price rally in January, but grainfed cattle supplies will remain strong.
What does this mean?
Weak lotfeeder margins are not great news for the weaners which are about to be sold in Victoria.  Lotfeeders often place a floor in the market for heavier weaners, and this year their prices are likely to sway some way from last year's values.
Low grainfed cattle prices are similarly depressing for grassfed cattle values. While there might be some sort of lift with tightening grassfed supplies in January, its likely prices will remain well below last year's levels, unless we see a strong lift in export prices.