Lower style wool drags on the market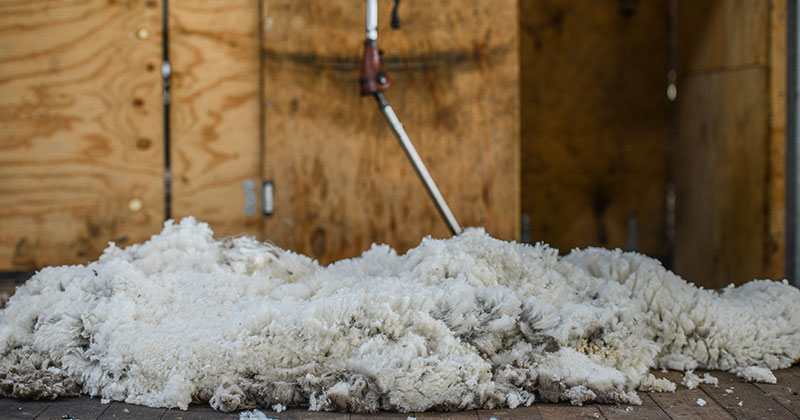 This is the third consecutive week where the market has recorded losses, with the blame sheeted home to the drought on the east coast and the subsequent diminished supply of better style wool.
AWEX report that the national average yield on Merino fleece for the week was 63.6%, the lowest level in over 10 years.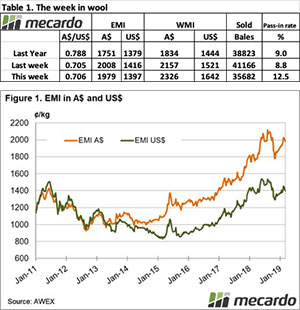 The Eastern Market Indicator (EMI) again pulled back over the week, falling 29 cents or 1.4% to 1,979 cents. The Au$ was slightly stronger, which didn't assist buyers with the EMI in US$ terms down by just 18 cents to end the week at 1,397 US cents (Table 1).
In Fremantle, the Western Market Indicator (WMI) gave up another 30 cents on the back of 20 cents fall last week to settle at 2,127 cents.
40,785 bales were offered for sale this week, 4,345 fewer than last week with the trade clearing 35,682. This is 5,484 bales less than last week, however the cheaper market left sellers unimpressed with 12.5% or 5,103 bales passed in. This Pass-In rate is the highest since last November.
In the auction weeks since the winter recess, 1,020,385 bales have been cleared to the trade, 193,235 fewer than the same period last year. The average shortfall cleared to the trade compared to the same time last year now sits at 6,663 bales per week fewer.
The dollar value for the week was $74.77 million, almost $15.0 million less than last week for a combined value of $2.40 billion so far this season. A simple calculation of $ value divided by bales sold gives us $2,095 per bale across all types, exactly $100 per bale lower than last week.
Crossbred types weren't missed either, losing between 25 & 40 cents for the week.