New year, new opportunities.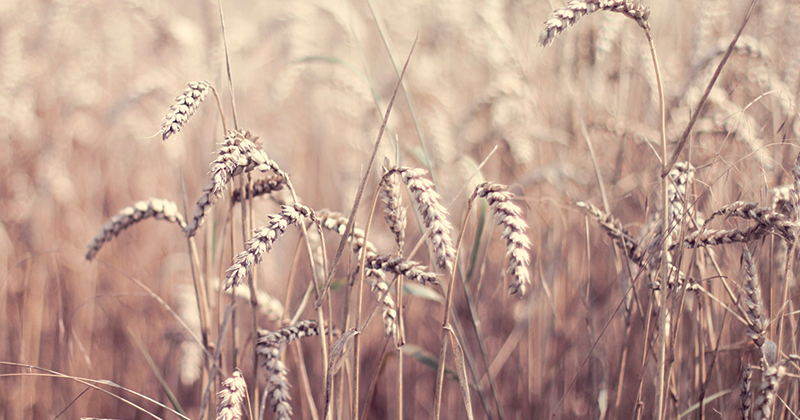 Dawn has broken on 2018. The start of a new year brings fresh possibilities, and a few positive signals have started to appear in the market. In the zodiac calendar 2018 is the year of the dog, let's hope that its wrong and we are in the year of the wheat bull.
So far in 2018 the wheat futures market has shown some positive signs. In US¢/bu.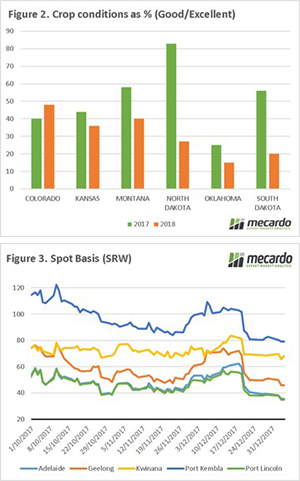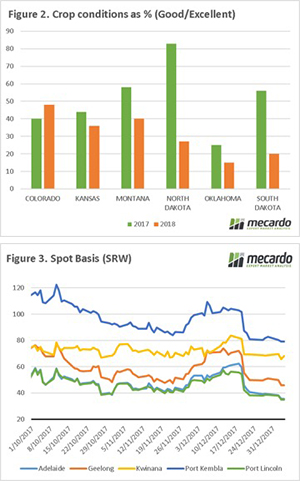 Chicago futures (figure 1) have gained 3% since boxing day, although the A$ has removed most of the shine from the rise. The market is currently starting to price in weather risk into the US winter wheat crop, after a series of cold weather events is likely to have caused some damage since inadequate snow cover was in place.
These weather events come on the back of a USDA crop progress which is particularly bullish (figure 2). This chart shows the current percentage of the crop rated as good to excellent. As we can see, with the exception of Colorado, all states are showing substantial year on year reductions in the good to excellent category. It has to be taken into account that this rating was determined prior to the cold snap, and it is liable to be downgraded further.
At a local level, after relatively lacklustre grower selling throughout, harvest sales were more forthcoming between Christmas and New Year. This increased selling pace has led to a depreciation in basis levels (versus Chicago). In figure 3, we can see the extent of the fall in basis since just prior to Christmas, which was largely inevitable and was discussed in following articles:
Lock in premiums, keep exposure to the market
Wheat seasonality: Imitation is the sincerest form of flattery
Let's look back at historical basis
It remains to be seen whether basis levels will improve as the festive season draws to a close. At present most businesses are still operating at relatively low levels, with many not returning until the 8th January.
Next Week
The market will continue to examine weather risks due to cold and la nina in the northern hemisphere. I don't expect big jumps in the coming week with the exception of potentially speculatively driving rallies.
It will be interesting to see the direction that basis takes this week; will grower selling pace result in further falls or will more buyers come to the table and drive it north?