No World Cup dive for our cattle prices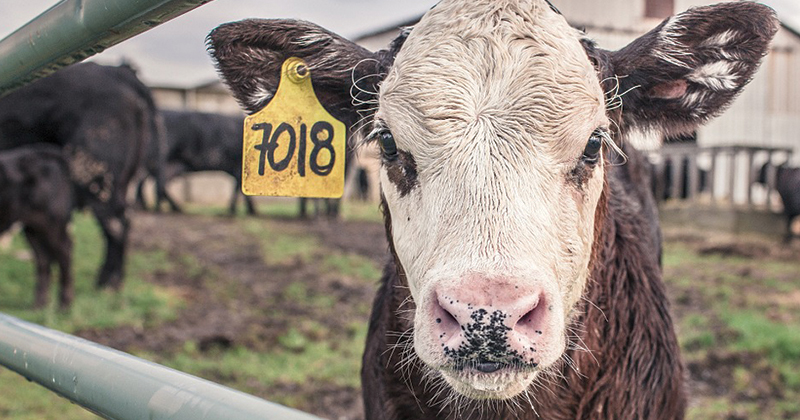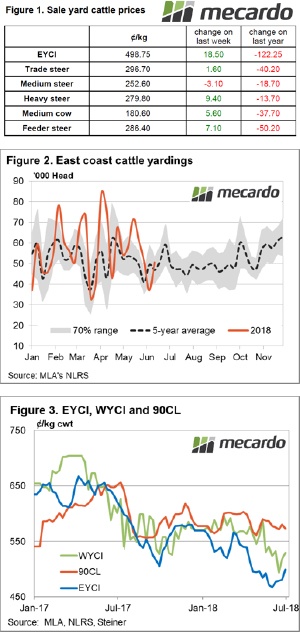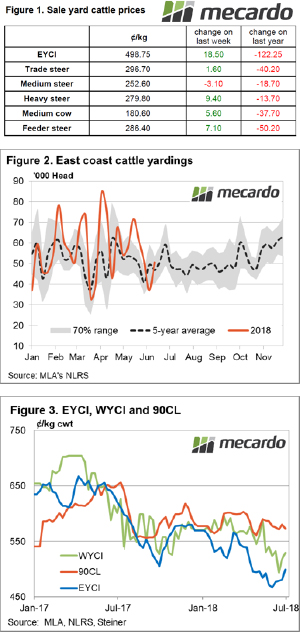 It does seem fashionable to take an easy dive now with the World Cup in full flight. Alas, the Socceroos are out and our ovine market commentator was right, I was up bleary-eyed mid-week to see the crashing exit. But at least there is something to cheer about when it comes to cattle prices this week.
The Eastern Young Cattle Indicator (EYCI) is mirroring Messi's last-minute breakthrough against Nigeria to see a solid 4% gain on the week to close just shy of $5 a kilo cwt. As noted in our beef comment from last week some rain in NSW and Queensland has helped the EYCI to lift. In addition, our analysis earlier in the month on improving processor margins suggested this could help see the EYCI recover toward the 500¢ level mid-Winter.
In other sale yard cattle categories prices were also improved this week with gains noted between 0.5% to 3.5%. Medium Steers were the only type to show some red ink (indeed as red faced as the Germans after their shock exit), closing at 252.6¢/kg lwt – Figure 1.
East coast throughput rebounded 37% this week to see it sitting comfortably within the normal seasonal range for this time of the year and slightly above the five-year average – Figure 2. NSW was the only state to record throughput levels above the seasonal average this week, suggesting the dry spell still having an impact there on sale yard cattle numbers.
In the West, cattle yardings have eased 16% and this has given the Western Young Cattle Indicator a bit of a lift too, posting a 2.3% gain to close at 529.5¢/kg cwt. In offshore markets the 90CL down a mere 1.3% and still sitting at good levels at 572.7¢/kg CIF – Figure 3.
What does it mean/next week?
Light rain forecast for Victorian and some central Queensland regions, along with some good falls for WA, should keep the cattle markets ticking along nicely. And with an early prediction for the World Cup final expect to see Belgium take on England, with the English taking the cup after a 52-year hiatus. You heard it here first…