Northern rain helps price gain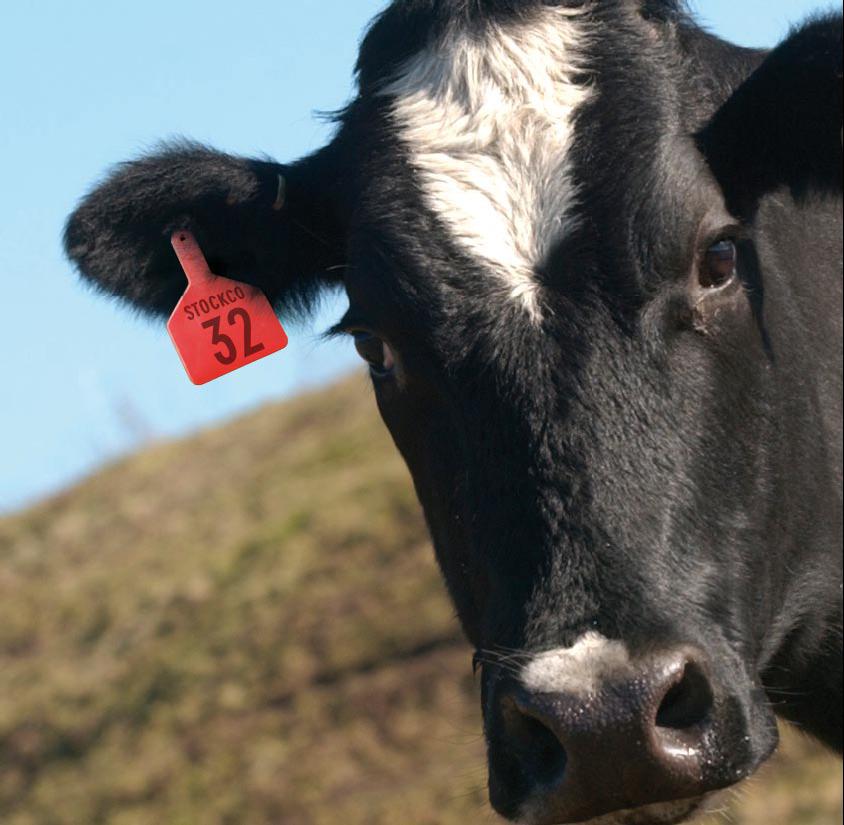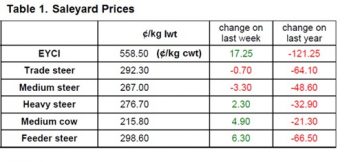 The Eastern Young Cattle Indicator (EYCI) lifted again this week, recovering a further 3% to see it close at 558.50¢/kg cwt with some good rainfall to much of Queensland providing a bit of a boost. Gains noted too across the East coast for Heavy and Feeder Steers, up 1-2% to round out a reasonably firm performance for cattle markets.
Table 1 outlines the week on week and year on year performance for a selection of cattle prices as at this weeks close, with marginal weekly falls noted for Trade and Medium Steers. Interestingly, a comparison of young cattle prices to finished steers from this time last year shows that the EYCI currently sits 17.8% below where is was last season, while Heavy Steers are just 10.6% softer.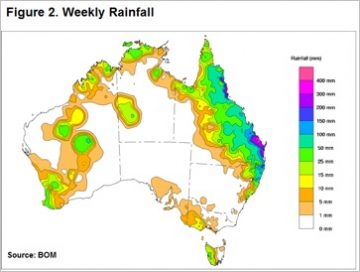 It points to how much optimism was sapped out of restocker buying activity during the Winter dry spell, but that may change if the northern rains continue and NSW starts to get a bit of decent rainfall too. Figure 2 shows the national rain tally over the last week with Queensland the clear beneficiary and next week's forecast calls for a continuation across much of the north and spreading into NSW which should continue to support demand for young cattle by restockers.
Indeed, our analysis piece released earlier this week took a look at how the October rains may assist prices for the remainder of the year, in a similar fashion to the 2011 season. Click here to recap on the report.
Additional support for young cattle prices is likely to come from a narrowing of the current discount spread of the EYCI to the 90CL beef export price. Given the tightness of supply experienced this year the spread discount wouldn't be expected to widen much further from current levels – figure 3.
The week ahead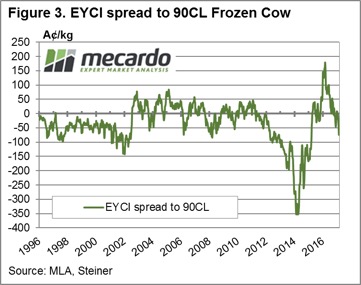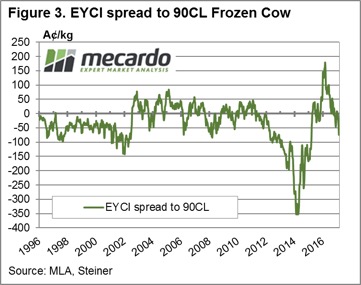 After a recent lift the 90CL is knocking on the door of 600¢/kg CIF again and with the Bureau forecast of a fairly normal November rainfall pattern and a good chance of a slightly wetter than average December all indications are for continued support for young cattle prices in the coming weeks.