Owen brings an early Xmas gift.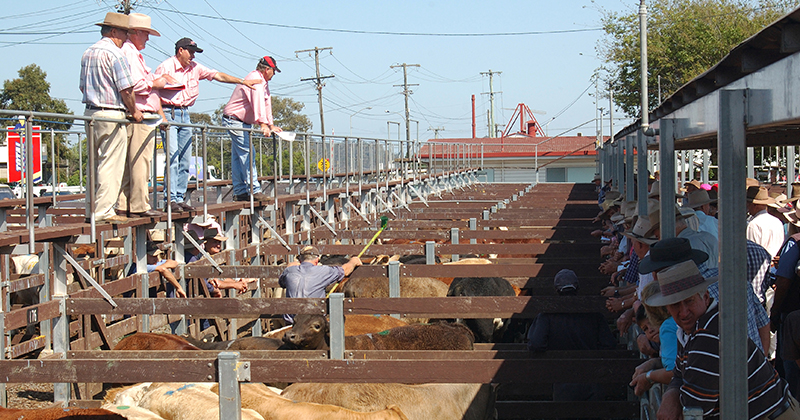 Rainfall to vast areas of the Eastern seaboard at the latter end of the week, compliments of ex-tropical cyclone Owen, has seen up to 50-100 mm recorded across Queensland, NSW and Victoria. The deluge has given a lift to cattle prices and provided some early Christmas cheer to producers.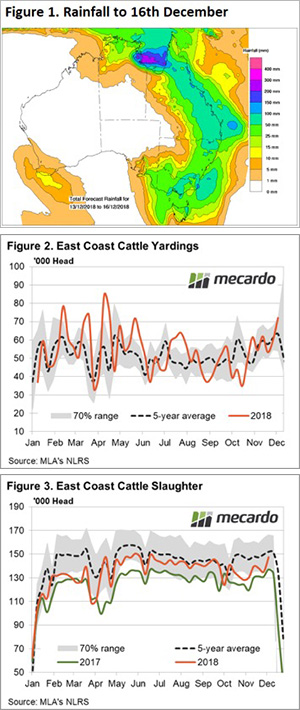 The Eastern Young Cattle Indicator (EYCI) managed a 2% gain on the week to close at 526.5¢/kg cwt on the back of the widespread rain event (Figure 1). Young cattle prices in WA held firm at the 550¢ level while declining levels of imported NZ grinding beef in the US has seen the 90CL frozen cow continue to climb toward 580¢/kg CIF.
The rainfall appears to be inspiring those looking for young cattle as the EYCI was one of the few NLRS reported categories in the East to post a price gain this week. East coast Feeder, Trade, Medium and Heavy Steers are all registering falls over the week between a 3-17¢ magnitude on a live weight basis. The increase in young cattle prices comes on the heels of elevated supply across the East coast, as higher cattle yarding and slaughter levels in Queensland in recent weeks has supported throughput and cull volumes across the Eastern seaboard.
The most recent Queensland cattle throughput figures show a 34% jump in saleyard numbers week on week to see over 27,000 head presented. The elevated northern volumes are underpinning a lift in East coast yardings to see numbers reach toward the upper end of the normal seasonal variation at 72,000 head, a 20% gain on the week prior (Figure 2).
East coast slaughter figures were also given a boost from Queensland with week on week numbers showing an 18% rise in slaughter in the sunshine state leading to a 9% gain in slaughter levels across the eastern states. This places weekly East coast slaughter numbers at the highest level recorded in six months at 147,531 head (Figure 3).
Next week
The increase in yardings and slaughter is likely to be the final hurrah for cattle supply this season as saleyards and meat works wind down for the Christmas period. Considering the rainfall levels seen recently, this will also give producers the chance to throw an extra few kilograms onto their cattle as we head into 2019.
Anticipate a robust finish for cattle prices for any remaining sales into next week. The current rainfall should set the cattle market up for a decent start off the blocks as we start the new year. This is the last comment for the season from Mecardo as we close shop until mid-January. Have a safe and merry festive season.