Pluviophile's delight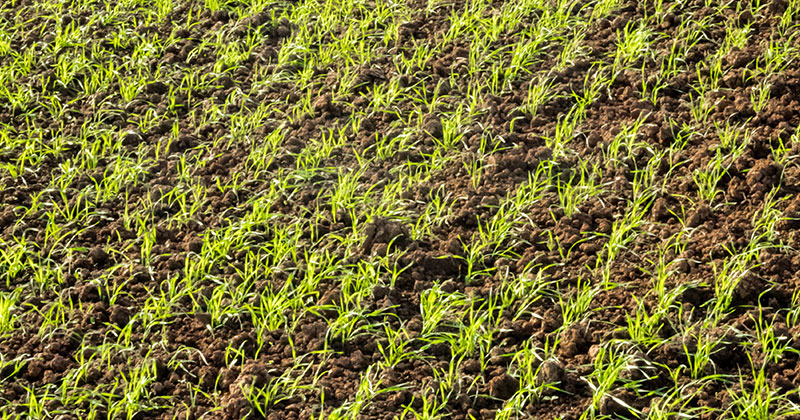 Pluviophile – A lover of rain; someone who finds joy and peace of mind during rainy days. The rain has teased in recent months, however this week it has delivered to many in need – and the market has reacted.
After months of dry weather we finally see a rainfall event in the east that provides. In the animated map, we can see that large swathes of New South Wales and Victoria have received an opening break, with many receiving >50mm over the two days.
There are some who missed out on the rainfall, however there is still plenty of time to go.
In recent weeks there had been concerns that the rain was never going to eventuate, with ASX futures rising A$20 since the start of April. As we all know prices move when the rain arrives, and the market followed the forecast.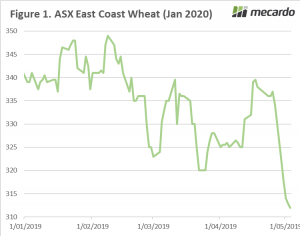 In figure 1, ASX wheat for Jan 2020 is shown since the start of the year. In the past week, the contract has fallen 7% or A$25. The contract is now at its lowest level since April/May last year.
The market now has confidence in the crop, it will quickly revert if rainfall is not forthcoming over the next three months. The crop is not yet made, but in Victoria and parts of New South Wales it is off the starting block.
In September last year, I proposed a strategy of selling ASX (see here), which would have provided a return of A$68/mt. At current levels of A$313, many consumers are considering taking some cover, as memories of the prior years' levels are fresh in mind.
On another note, If you are looking for something to listen to whilst seeding – give our podcast a shot:
Click here
What does it mean/next week?:
The overseas markets have stabilized over the past week, and it is likely that we will see short speculators start to take profits.
I don't expect old crop to lose a huge amount of value due to the lack of available supply, however new crop is liable to come under further pressure as buyers pull the brakes.