Record spring yardings dampening prices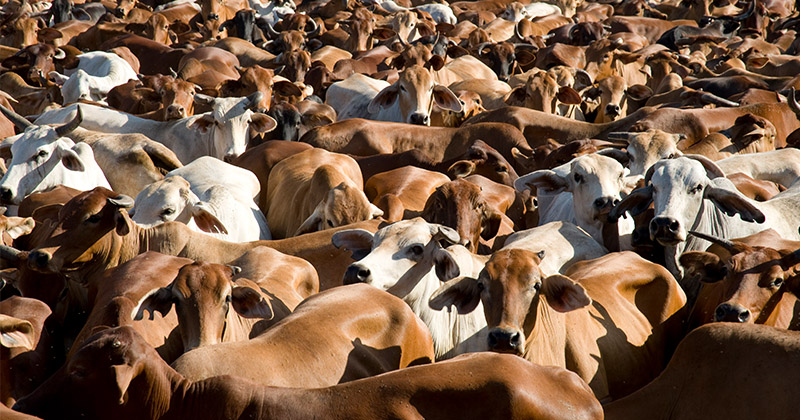 Cattle prices continued to ease this week in the face of more rises in export markets. There is little doubting the driver behind lower saleyard prices, with the season yet to break and relatively strong prices drawing out supply.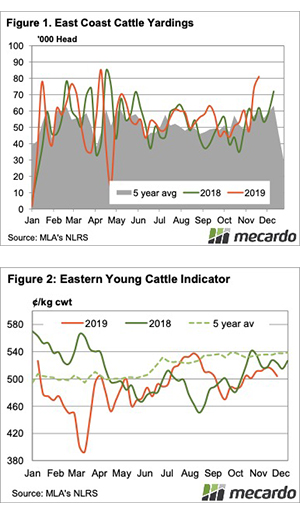 It's always about supply and demand. In the last couple of weeks, it has been increasing supply overwhelming strong demand. Figure 1 shows east coast cattle yardings hit 80,000 head last week.  Cattle yardings have only been this high once this year, back in April.
In fact, cattle yardings have never gone over 80,000 head in the spring. The numbers are quite remarkable given the declining herd, but strong prices and little feed are pushing cattle into yards.  No surprises that NSW and Queensland are leading the strong yardings, both up 31% and 68% on last year respectively.
With the heavy supply, it is improving demand, from the more increases in export prices, which is stopping cattle prices from really tanking. The Eastern Young Cattle Indicator (EYCI) lost another 10¢ this week to hit a five-week low of 504¢/kg cwt (Figure 2).
Heavier cattle categories took more of a hit. The National Heavy Steer and Medium Cow Indicators fell 47¢ and 48¢ respectively. Having hit 3-year highs recently, supplies are likely to have picked up in saleyards as growers try to take advantage of the highs.
The 90CL Frozen Cow indicator gained another 12¢ in our terms to post yet another record of 972¢/kg cwt.  In US terms, it hit the magic 300¢/lb, surpassing the September 2014 record. Never has cow beef been more expensive in the US, at least in nominal terms.
Next Week:
There has been a bit of precipitation about this week and there's a bit more on the forecast. Given the much lower prices this week, we might expect as sharp a pullback in supply and steadier prices.  Some rain would obviously help find support and there should be some upside.