Shearing worries spark buyer enthusiasm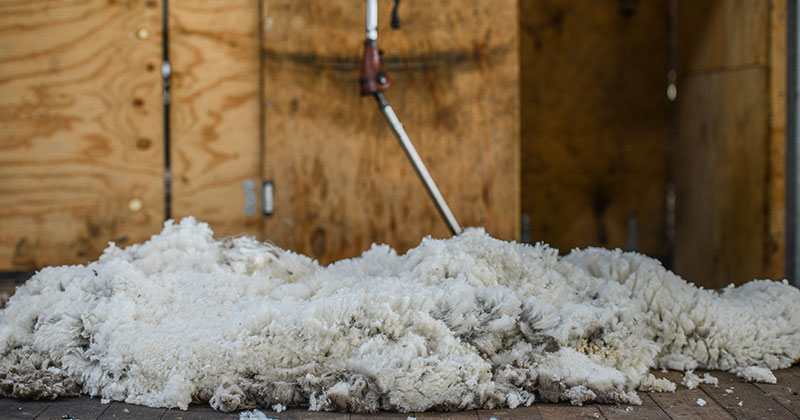 The quantity of bales offered for sale this week was sizeable due to accumulation over the Easter recess period. However, that didn't lead to softened demand. AWEX reported that brokers are talking about sharp declines in shearing activity and this has done well to ignite buyer activity.
The Eastern Market Indicator (EMI) gained a nice 17 cents on the week to close at 1,960 cents. The US$ has moved broadly higher this week and as a result, the AU$ has been collateral damage dipping below 70 cents during the week but finishing at US $0.702. The EMI in US$ terms fell by 21 cents to end the week at 1,376 US cents (Table 1).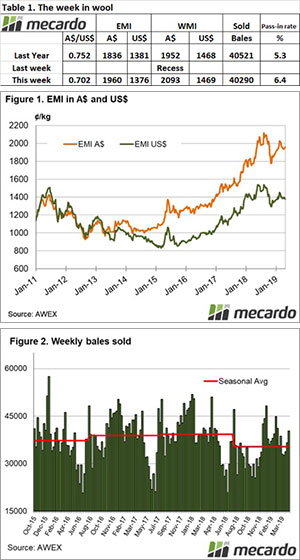 The Western Market Indicator (WMI) found strength like its eastern counterpart, lifting 28 cents to 2,093 cents.
The increased offering this week saw 43,053 bales come to market. Growers were more satisfied with the market levels than prior to the recess with just 6.4% of the offering passed in. This meant 40, 290 bales were cleared to the trade. In the auction weeks since the winter recess, 1,235,391 bales have been cleared to the trade, 223,644 fewer than the same period last year. The average shortfall cleared to the trade compared to the same time last year now sits at 6389 bales per week fewer.
The dollar value for the week was $82.9 million for a combined value of $2.848 billion so far this season. A simple calculation of $ value divided by bales sold gives us $2,058 per bale across all types for the week.
All MPG's lifted in this weeks market but reports are still indicating a lack of support for lesser style wools. Crossbreds have continued the running streak, gaining another 40 cents to 60 for 28 micron. While Cardings have been slipping for the last six weeks, this weeks strength has supported a lift in the range of 10 to 25 cents for the cardings indicator.
The week ahead
The roster for the next few weeks reflects the predicted drop in availability of fresh wool. Next week just 33,464 bales are rostered for sale with all centres selling on Wednesday and Thursday. The following weeks 34,445 and 30,719 bales are currently forecast on offer.