Sideways action as NSW slaughter peaks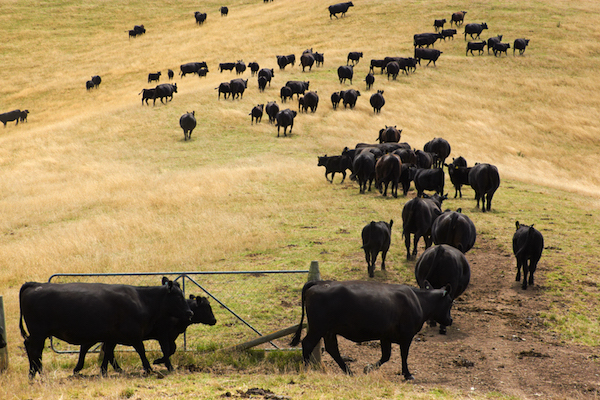 Most national cattle indicators trending sideways this week as East coast throughput and slaughter (from the week prior) are largely unchanged. The Eastern Young Cattle Indicator (EYCI) indicative of the broader market with a mere 0.3% gain to see it close at 651.75¢/kg cwt.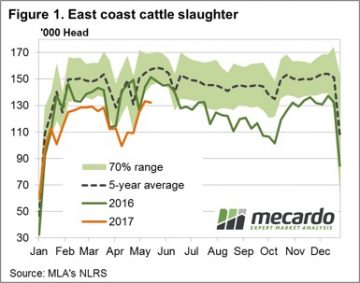 East coast slaughter, for the week ending 19th May, recording a marginally softer result for the week at 132,392 head – figure 1. Most of the East coast states registering a decline in slaughter, although as figure 2 shows NSW slaughter still peaking for the season with 32,268 head recorded. NSW slaughter likely to start the seasonal decline from here though as supply tightens into the Winter period.
East coast weekly cattle yarding numbers further demonstrating the tight season with a marginal move lower to 47,009 head, trending along the very bottom of the "normal" range that could be expected for this time of the year – figure 3. After the recent spike in throughput experienced after the Easter/ANAC day period yarding numbers seem to have well and truly contracted, trending 16.5% below the five-year pattern, and 21% under the 2016 pattern for this week in the season.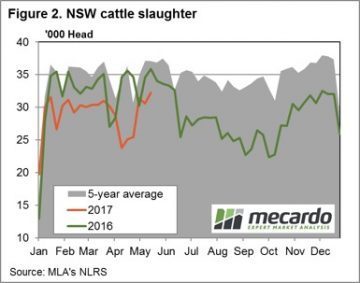 Most national categories of cattle price movements were pretty uneventful this week, although Medium Steers dragged down by SA figures. The National Medium Steer closing the week 4.6% softer to 292¢/kg lwt, Queensland Medium Steers unchanged at 286¢ and NSW/Victorian Medium Steers only 2-3% softer. The killer punch for the national figures coming from SA Medium Steers, down 14.9% to 294¢/kg lwt.
The week ahead
Beef export prices took a bit of a breather over the week with the 90CL Frozen Cow down 2.4% to 633.3¢/kg CIF and a relatively dry forecast for most of the country could see cattle prices continue to consolidate this week, even if supply continues to contract in line with the usual Winter pattern.