Still softer, but a promising end to the week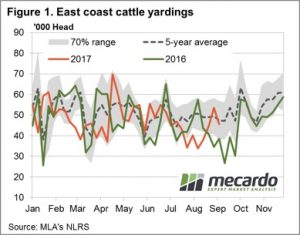 The headline Eastern Young Cattle Indicator (EYCI) finished softer again this week, but not before staging a slight gain off the mid-week low of 513.50¢/kg cwt as saleyard throughput numbers decline in the face of the lower prices.
Figure 1 highlights the East coast yarding figures for the week, showing a 14.8% drop as throughput in Queensland, NSW and Victoria all come in lower as producers respond to softer pricing across most types of cattle in these regions. Queensland cattle prices showed fairly flat movement on the week, while NSW saw losses between the 1.5% to 3% range. Victorian prices were the heaviest, with falls between 3% to 5% on the week.
Meanwhile, East coast slaughter figures continue to trend broadly sideways, although the trend has remained above last season's figures since early Winter – figure 2. As Angus, noted in his analysis piece this week the higher slaughter has now been weighing on prices, but this suggests price support will be evident later in the season – particularly if the MLA slaughter estimate is achieved come year end.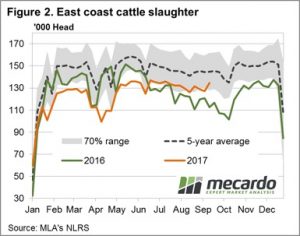 Figure 3 shows the price pattern for the EYCI, WYCI and 90CL. The volatility continues in the West for young cattle with a 9% drop to 536¢ while the EYCI finished the week at 515.75¢, a fall of 1.6%. In a promising sign, the 90CL beef export price back above 560¢ in six weeks with a close of 562.6¢/kg CIF noted.
The week ahead
The lift in the 90CL, lower throughput and the prospect of reasonable rain for the first time across most of NSW this week points to the chance of some support creeping into cattle prices for the near term. Particularly as the rain forecast includes some heavier falls expected in WA and the East of Victoria.