Tanking time for lambs not for mutton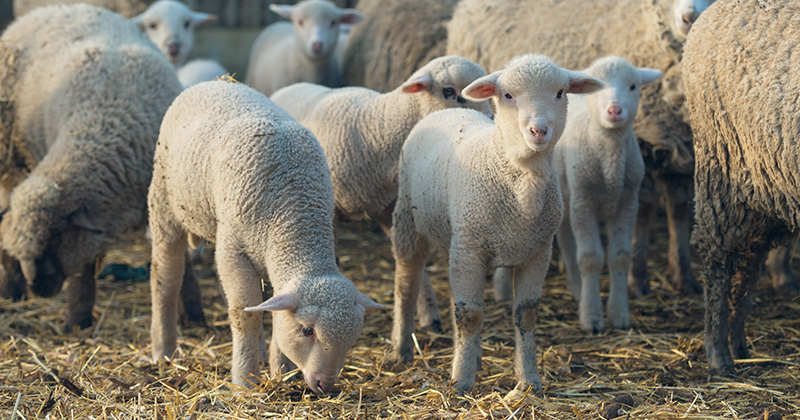 It is tanking time for lambs, but not so much for sheep. Supply has been improving for both lamb and sheep, but it's only lamb prices which have been on the wane. WA is a different story, with lamb and sheep values both falling heavily.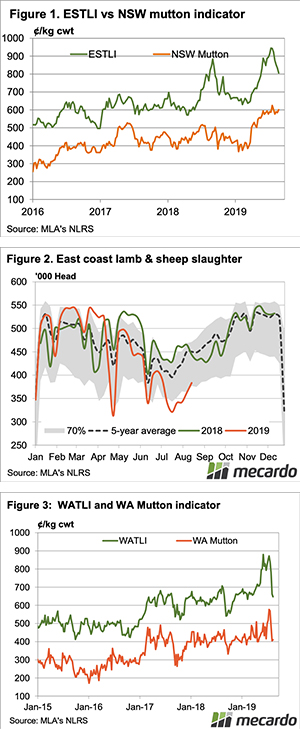 The Eastern States Trade Lamb Indicator (ESTLI) fell again this week, but the rate slowed a little. The ESTLI was back at 806¢/kg cwt on Thursday, which while being down 120¢ for the month, and 27¢ year on year, is still a very good price. Figure 1 shows it was only for a short period the ESTLI was higher last year and before that 800¢ seemed fanciful.
Interestingly, restocker lambs are priced 130¢ higher than this time last year, at 830¢ it's not that much stronger than the ESTLI.
Mutton prices rallied marginally this week (Figure 1), with sheep supply remaining tight and export demand very good. There might just be money in mutton for processors at 600¢, and hence competition remains strong.
Combined sheep and lamb slaughter has been rising with processors coming back online after seasonal maintenance. Figure 2 shows combined sheep and lamb slaughter hasn't been this low at this time of year since 2011. There is room for another 170,000 head of sheep and lambs to be slaughtered per week. This shows that supply remains very tight.
In WA, lamb and mutton prices continued to ease (Figure 3).  Mutton in the west is now close to 200¢ below the east. On a 20kg cwt sheep this is $40, which is more than enough for WA sheep to start to work their way east.  Further WA mutton price fall should be limited.
Next week?:
The forecast shows more rain for the south of both the east and west, but none for the drought-stricken zones. Demand for store stock is unlikely to improve, but it isn't likely to impact on finished stock too much.
Lamb prices are looking for a base and 800¢ might be it. If it falls through 800, it is headed for 750¢.  Still a good price for sucker lambs, but starting to fall well below the forward contracts which have recently been on offer.