The drive to harvest pulls down wheat pricing.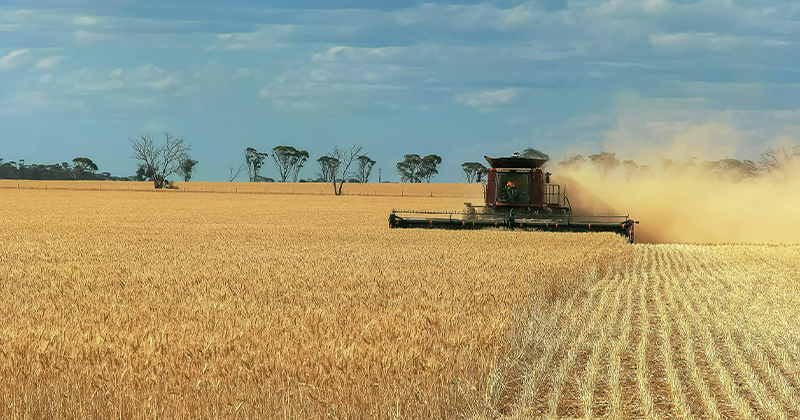 This season is all about local elements. The overseas market can be forgotten for now. In this update we take a look at the factors holding prices down and why it's worth keeping an eye on overseas futures for next year's harvest.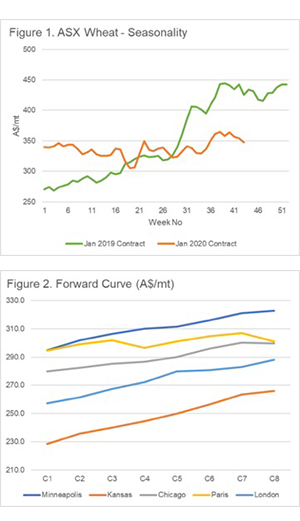 It's been a disappointing week for producers when it comes to pricing. As harvest starts to progress, the ASX wheat contract has experienced its third week of downward pricing. The ASX wheat contract has followed a very similar pattern to last year since the crop worsened albeit with a large discount year on year (Figure 1).
Last year the ASX continued to decline until the end of November, before rising towards the end of the year. So why is the grain price falling rather than rising?
Growers are largely unsold coming into harvest. There is an increase in the number of offers from producers. The extra supply is in part pushing down pricing.
The Australian crop may well be below 16mmt this season. However, the balance between supply and demand is pointing towards domestic demand either being met or limited transshipments being required.
Overall demand in Australia is down year on year due to reduced feed demand after destocking. There is also the potential for imports into NSW to meet specific quality requirements, this may reduce a large proportion of domestic demand (approx. 500kmt.)
At Mecardo we think it is always important to look forward when marketing your grain. There are opportunities to be realized by having a forward-looking strategy. In Figure 2, the forward curve for the major grain bourses is displayed.
The market remains in contango. This is where the forward contract months are at a premium to the spot. This is a common occurrence in wheat and provides an opportunity to lock in high prices for future years.
Remember to listen to the  Commodity Conversation podcast by Mecardo
Next week:
It will be interesting to see whether this lower pricing point for ASX wheat brings consumers out of the woodwork.
There has been a hot blast drive through Victoria in the past three days. This could have hampered some crop development in the Wimmera and Mallee.