The Russians are coming (again)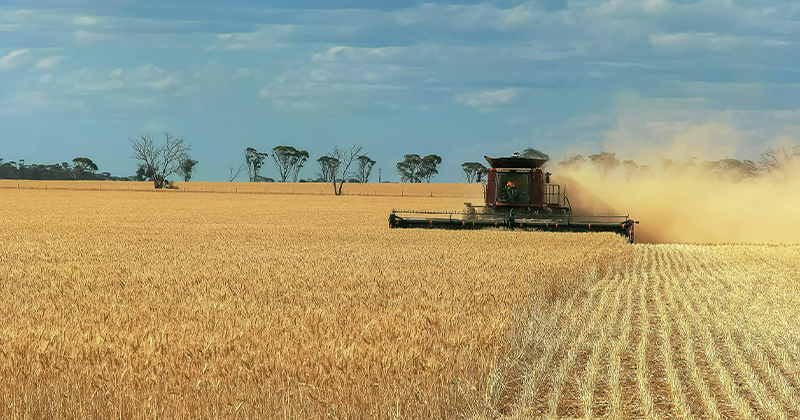 With inspiring rainfall dropping on large tracts of the eastern states, confidence is increased in the capability of producing a 2020 crop. If the potential continues to improve then exports will be important. Our biggest export competitor (Russia) is on track to produce a very large crop, which could cause problems.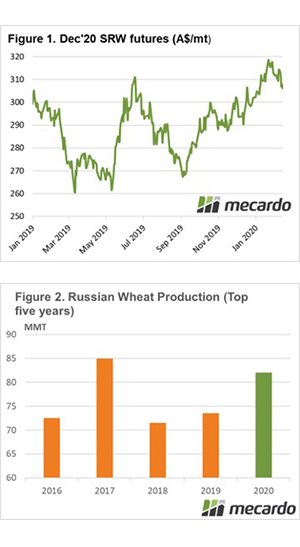 The futures market has ended the week on a downer, with value in Australian dollars down A$8 since last Thursday. At the same time, the Australian dollar has remained low as a result of economic concerns related to the Coronavirus in China.
The market, however, is still providing attractive levels (historically) for hedging. In my experience dealing with farmers there used to be a psychological sell level of A$300. At present, the December Chicago contract remains above A$305. It is important to note that when using futures, basis has to be included on top. Historically Australian basis has been positive, although in theory could turn negative if we have extremely strong yields.
During December, there were concerns that the black sea region was in strife. This is a story that we've heard year after year and my thoughts were that it was too early to write off our competitors. In the past week, new forecasts for Russian production have been released, with a consensus from a number of organizations showing 82mmt.
Figure 2 puts an 82mmt crop in perspective, showing the top 5 productive seasons since the fall of the Soviet Union. An 82mmt crop would be the 2nd largest, narrowly behind the monster 2017 season.
Interestingly, the top five production years have all been in the last five years. It is inevitable that Russia will have a hiccup at some point in time, and when it does, the markets will see substantial rises due to the importance of Russia as an exporter.
It is still worthwhile to note that a lot can happen between now and the Russian harvest, so any forecasts of the crop will need to be taken with a grain of salt. They do however have the potential for a very large crop.
If Australian crop conditions continue to improve then exports will increase back to normal levels, a large Russian crop will be competing with us.
Next week
The east coast of Australia is forecast to receive additional rain over the next week. If this eventuates, confidence in the crop will be much improved.
The west coast, however, has limited rainfall on the forecast, and could really do with an increase in soil moisture.