The turning point in pricing?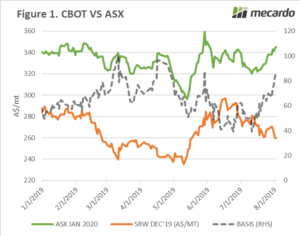 The end of July sees Australia and the US once again starting to diverge away from one another, with drought concerns coming to the fore. In this week's comment, we briefly discuss the direction of the market and the recent external administration of another grain trading company.
The start of a new month has seen Chicago wheat futures decline with A$9 lost in the past two days. Harvest pressure and good conditions in Ukraine have led to the fall, the result being futures falling in Aud terms to the lowest level since May.
At a local level, the ASX has put on a spirited drive with futures rising in recent weeks from lows during the last month of A$320 back up to A$345. The decline in CBOT and rise in ASX sees basis between the two at $80, a value above the average and moving into drought territory.
During this week I drove from Ballarat to Speed in Victoria. The crop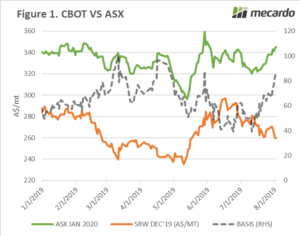 is in good condition with plenty of potential. The same story, however, cannot be said for NSW, which now can, unfortunately, be largely written off.
Although Victoria and parts of South Australia are presently in good condition, there is still a long way to go. If we see major falls in production, we will likely see very strong appreciation of prices in a similar matter to last year.
A lot of the talk around the industry has been around Grainpro. After much rumour and speculation, Grainpro has gone into external administration. The purpose of the external administration is generally to give a company time to avoid insolvency. From experience, they rarely continue for much longer after going into external administration.
I have spoken to a number of growers who are owed substantial amounts of money and hopefully they will be able to recoup some of the losses. However past experience of grain insolvencies has seen little in the way of cash trickling down to growers.
Listen to our podcast on 'Insolvency in the grain game' or this article 'Grain trade insolvency – a real danger?'
Next week
The next week will bring the August WASDE report, which will be interesting as the market attempts to digest how dry conditions in Russia are impacting upon the global supply and demand estimates.
The rainfall forecasts look quite light which are concerning as we move through the important august growing period. Fingers crossed that some falls eventuate.