Tit for tariff stripping confidence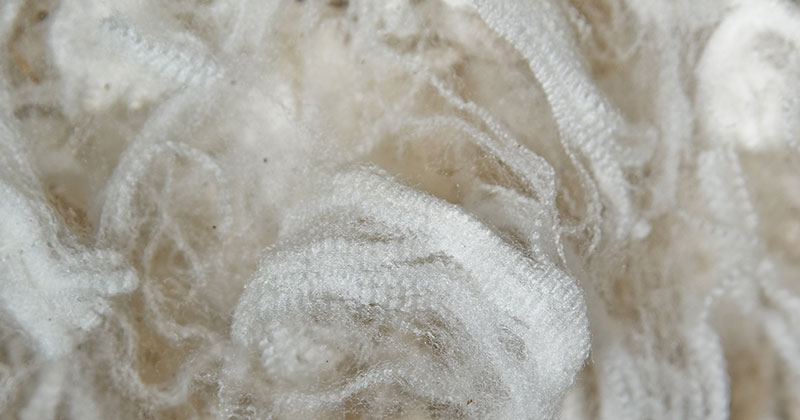 There was no sign of confidence in the wool market this week. Rostered bales were withdrawn left right and centre and much of those that made the sale were passed in. With another week of US-China tariff announcements and severe price declines, uncertainty is at an all-time high. 
The Eastern Market Indicator (EMI) fell 122 cents for the week to 1,375 cents. In the last four weeks the EMI has fallen 22% to reach levels not seen since December 2016. The Au$ dropped to US $0.673 at the weeks close. The EMI in US$ terms fell 90 cents to 925 cents (Table 1). A low not seen in over three years in foreign terms.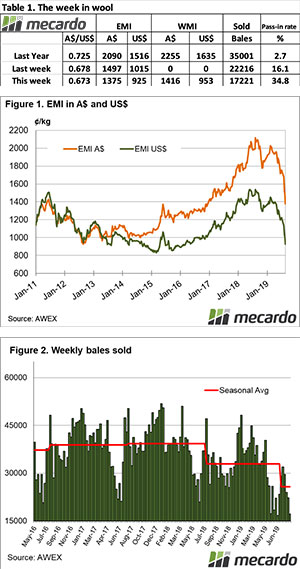 Fremantle had some catching up to do after a week of no sales. The Western Market Indicator (WMI) lost 182 cents to finish on 1,416 cents.
Auctions saw no sign of any real buyer interest across all types. Despite the magnitude of the falls we have seen over such a short time frame there has been no sense of a base. The timing of the current fall in prices continues to match up the downturn that occurred in 2011.
Most microns suffered losses in the range of 100 to 170 cents. Crossbred wools were the least affected, holding ground with minor falls of 5 cents for 30-32 micron wool and 10 to 30 cents. The Merino Cardings Indicators dropped 90 to 135 cents in the east and a whopping 200 cents, with room for it to fall further still to the 780 to 800 cent range.
A total of 26,420 bales were offered for sale for the week but  34.8% Passed In at auction. This meant just 17,221 bales cleared to the trade. For the season to date we've seen 64,408 fewer bales sold than the same period in 2018-19.
The dollar value for the week was only $26.12 million, for a combined value so far this season of $267 million.
The week ahead
It's a concern when high pass in rates, limited supply and a softer Australian dollar still can't draw out any significant buyer interest. Another announcement last week of increasing tariffs by the US on Chinese imports appears to have been the overriding driver. Further US-China trade negotiations are scheduled for September and will no doubt impact the confidence of Chinese processors moving forward.
Across the three selling centres, 29,061 bales are rostered for sale next week. 32,641 bales and 35,215 bales are scheduled for the weeks following.