Upside for some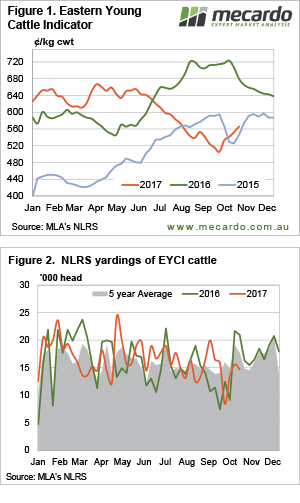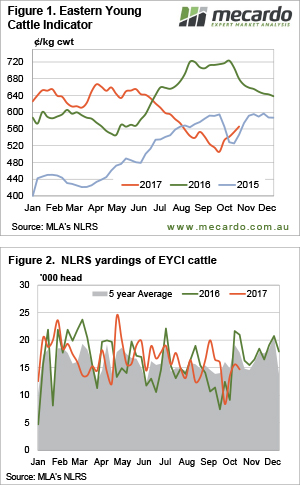 More wet weather this week cut cattle yardings in Queensland, and encouraged restockers to return to the market in NSW.  At a time of year when prices generally fall, or are steady, we saw a further appreciation in the Eastern Young Cattle Indicator (EYCI), but not in all categories.
In general, the cattle market lifted this week. The EYCI continued its rally, gaining a further 13¢ to hit 565.75¢/kg cwt.  The EYCI has now rallied for a month, and gained 12%, now sitting at a 12 week high (figure 1).  The EYCI seems to be heading on a similar trajectory to 2015, although the previous prices trends have been starkly different.
EYCI yardings were a touch weaker in the week ending Wednesday, but are not really abnormal.The 14,698 head yarded this week were down 5% on last week, and 29% on the same week in 2016, and 7% below the five year average (figure 2).
The main movers in price terms which drove the EYCI, were trade steers in Queensland, which gained 18.5% to move back to 559¢/kg cwt. This is just 3¢ shy of trade steers in Victoria and NSW.
Restocker steers in NSW also made a move, likely on a combination of tighter supply and stronger demand.  NSW Restockers paid 11.5% more for the most expensive cattle in the country (according to reported indicators) at 349¢/kg cwt. To be fair Victorian restockers paid the same money.
Over in the west the WYCI continues to hover in the 520-530¢ range. While this is obviously discounted to its eastern counterpart, it's still a great price for what is generally a strong supply period in WA.
The week ahead
After three wet weeks the rain is expect to abate in NSW and Queensland next week.  This might pick up supply a little as cattle will be able to move, but there might be restockers waiting for them. It's hard to see prices falling over the coming weeks, but upside is reliant on restocker activity as a lot of the fat for processors and feeders has disappeared with the month long price rally.