We may run out of toilet rolls, but there will be plenty of cereal.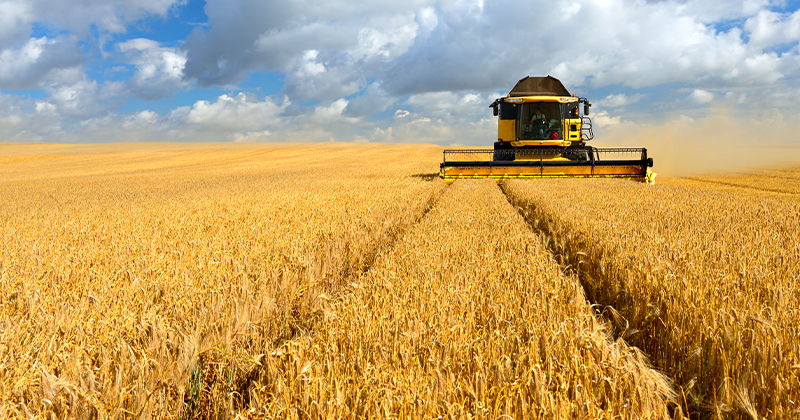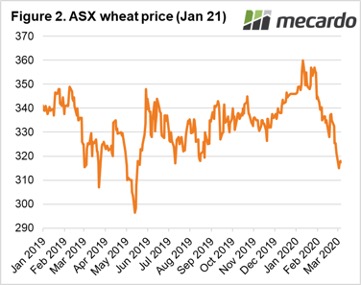 There has been a run on toilet roll in Australia, however, we will likely have plenty of cereal. In this update, we step away from COVID-19 and look at some of the fundamentals driving the market.
The December 2020 Chicago wheat contract has dropped 6% in the past fortnight (Figure 1). Levels have dropped considerably from A$318 to A$298, although in part have been assisted by a falling A$. If the A$ had remained at the same level as the start of the year the A$ swap would be around A$285.
Coming closer to home the ASX January 2021 contract has also experienced dramatic falls. The contract reached its peak in early January at A$360/mt but has since seen a gradual fall to A$317.50.
One of the reasons for the fall in pricing of wheat (and other commodities/equities) has been due to a risk-off appetite. This is where traders reduce their risk by moving to traditionally safe investments, which causes a sell-off. However it is not just this attitude that has caused a downfall in pricing, it is fundamentally driven.
After two years of drought, the east coast is starting (touch wood) to return to more fertile conditions.  This has provided confidence that Australia will produce an average or above average crop in the domestically focused areas. As a result, our basis has declined as buyers don't have a 'fear of missing out'.
On a global basis, the same sentiment dominates with global conditions improving. Overnight, the FAO forecast wheat production at 763mmt. If global weather patterns continue to be benign then there is every chance that the world will be awash with cereals.
Remember to listen to the  Commodity Conversation podcast by Mecardo
Next week
Markets will continue to watch the spread of COVID-19. Overnight it was confirmed that coronavirus had impacted staff at a commodity brokerage in London, this could spook the market.
On the data front, USDA will release their WASDE report next week. This will provide further insights into the supply scenario.