Wheat futures rally to extreme levels (in A$ terms)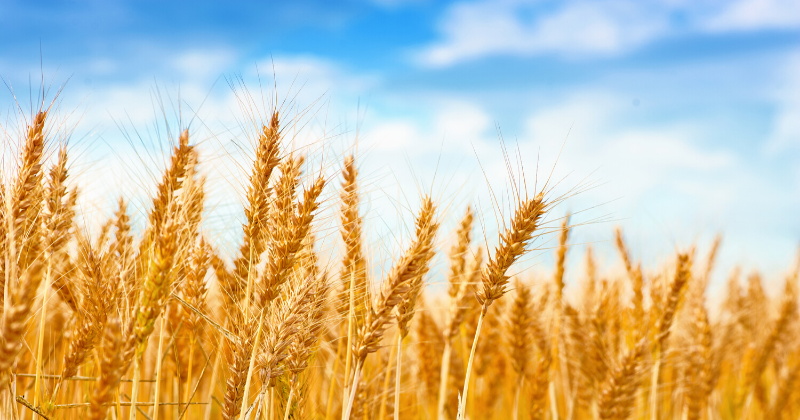 Key Points
The markets have gone truly bananas. In a good way for growers but not necessarily for consumers. In the past week, Chicago wheat futures have risen to the highest level since 2012 (in A$ terms). This provides a great opportunity for farmers to start their 2021 marketing at extremely strong levels.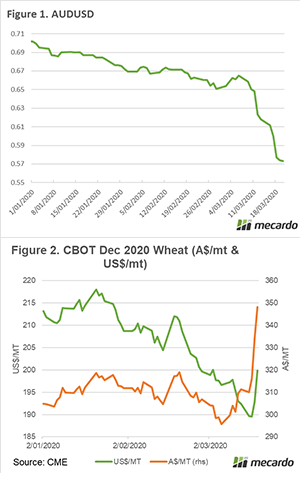 Let's start where the real excitement is. The A$. Australian agriculture for the most part of export orientated; this means that with a lower dollar the local price can rise dramatically due to buying in Australia from overseas effectively being cheaper. 
The A$ has been feeling the effects of gravity since the start of the COVID19 crisis. At the start of the year, the expectations from most banks was an A$ in the low to mid 70's. The mother of all black swan events has caused all forecasts to be wildly wrong. In figure 1, we can see the Australian dollar against the greenback, and it has hit levels not seen since 2002.

So what about grain? In figure 2, Chicago wheat futures for December are displayed in both US$/mt & A$/mt. The market has rallied substantially in both however the rally in Australia dollar terms has been more pronounced.

This is an opportunity for producers. At present, it is possible to book in a wheat swap for the coming harvest at A$347/mt. This is an extremely attractive number historically and places it at the highest level since 2012. 
We advise that all producers enquire with their banks about the option for using swaps for mitigating risk. It is important to get this facility set up, it doesn't cost anything. It's better to have it and not need it than need it and not have it. 
Remember to listen to the  Commodity Conversation podcast by Mecardo
What does it mean/next week?:
The market is crazy with a huge amount of volatility. What is going to happen next week? No-one has a clue. We are in uncharted territory, the US dollar is considered a safe haven which has caused a decline in our currency. 
We might find the US response lacking and see an exodus from the greenback. It's all speculation at the moment, but in reality agriculture seems quite resilient to these times.