Why does it always rain on me?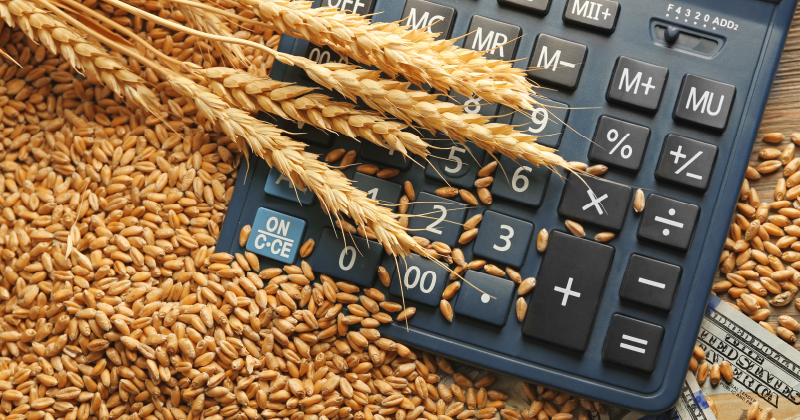 The sound of rain can be heard on roofs throughout the east coast. This will be welcome to some and a hindrance to others. In this update we take a look at futures for next year, and the last two days deluge.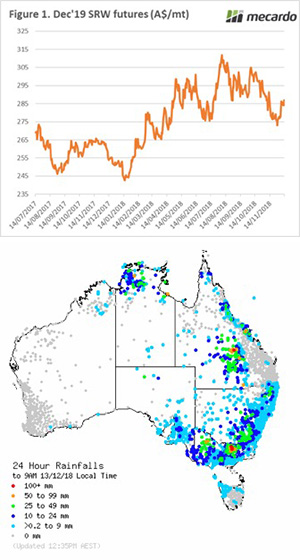 It is always important to look towards the horizon when creating a strategy for grain marketing. This is especially true this year, as producers in Australia are all likely to receive a historically high price due to the local drought conditions. There isn't much strategy really required in a year like this.
We don't however know what the outcome will be for next year, will we have a big or small crop? Therefore, it is important to start considering forward sales.  Since the start of the month the December 2019 CBOT wheat contract has increased by 4%, from A$275/mt to A$287/mt (Figure 1). As we move forward into the northern hemisphere risk market, opportunities may present themselves.
Locally the east coast of Australia has received a deluge of rainfall with reports of over 200mm in 24 hours. Technically that will leave many with above average rainfall for the season. Unfortunately, it didn't arrive at the right time for many.
The rainfall will cause more delays to harvesting, and likely downgrading to quality in Victoria. On a positive note, it will provide some subsoil moisture for next season and place a floor in sorghum production.
The delay in harvest may provide a lift in prices between now and Christmas for prompt delivery, as consumers attempt to gain access to feed.
What does it mean/next week?
There is a meeting in Russia next week to discuss the wheat export pace. The inevitable rumors of an export ban are back to the fore.
It is unlikely that an export ban will be put in place, a more likely result would be some form of curbs. However either action would result in a move back to US exports becoming competitive.