Winter tightening pushes prices northward… in the East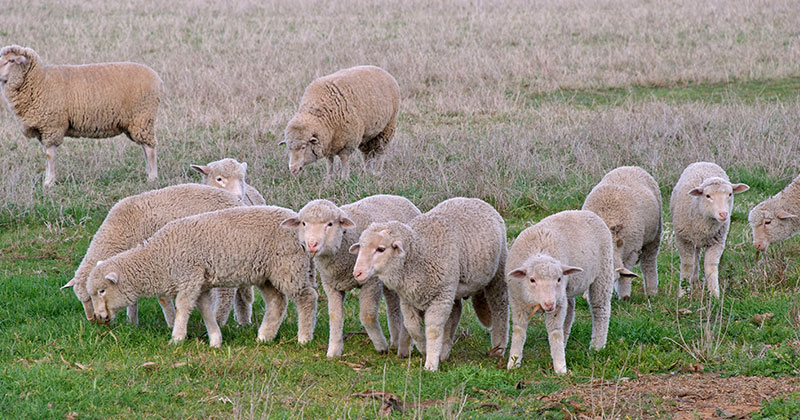 Declining sale yard throughput and slaughter levels for lamb and sheep markets are making their presence felt on price movements this week. Across the national market indicators prices were up for all categories of stock except for mutton.
East coast lamb markets leading the charge higher with reports of heavy lambs in Wagga fetching record prices of over $350 a head. The Eastern States Trade Lamb Indicator (ESTLI) reflecting the buoyancy across the eastern markets with a 42¢ gain to close yesterday at 885¢/kg cwt.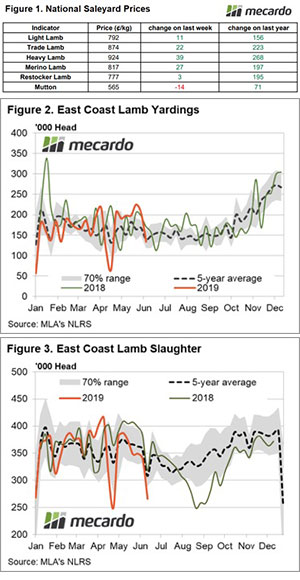 The National Trade Lamb Indicator (NTLI) climbing too, although not as robustly as the ESTLI, posting a gain of 22¢ to hit 874¢ – Figure 1. West Australian lamb markets dragging on the national lamb indicator figures with all reported lamb categories in the west posting falls between 40¢-110¢. The West Australian Trade Lamb Indicator (WATLI) off 65¢ to finish yesterday at 815¢.
East coast lamb yarding levels have taken a 34% dive in recent weeks to see it trending below the five-year seasonal pattern for the first time since April – Figure 2. Last season we saw a dip toward 120,000 head for east coast lamb yardings during late June, so we may not be out of the woods yet for the tight winter conditions.
Lamb slaughter levels in the east are reflecting the tight conditions too with the most recent figures dipping below the normal seasonal range to record the second lowest weekly figure since the start of 2019 at a whisker under 266,000 head – Figure 3. Bearing in mind that the lowest weekly figure this year was during the Easter/ANZAC shortened trading week for meat processors it's a sign that margins are likely tight, at least for sheep and lamb processing lines.
What does it mean/next week?
The weekly rainfall forecast points to some decent falls scheduled for the west, up to 100mm for some south west coastal regions which could relieve the recent price pressure experienced in WA.
Across much of the rest of the sheep rearing regions across the nation there isn't much rain on the horizon to support prices so producers will have to rely on the tight winter supply to keep some price buoyancy present.
Hopefully the live sheep export hiatus currently underway won't continue to act as a drag on WA prices throughout the remainder of Winter.