Wool closes on a solid footing.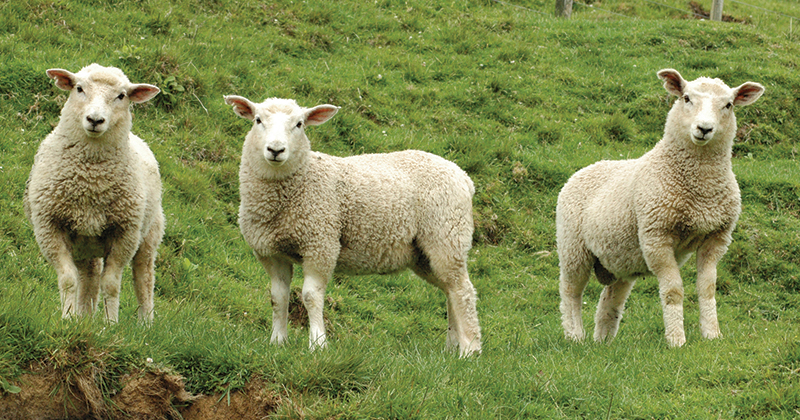 The wool market has now closed for the annual 3-week winter recess, and all industry players would have been pleased with the final sales.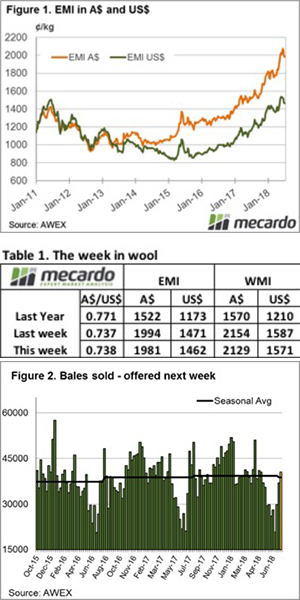 A solid and well supported market leading into a break provides all with confidence, especially wool exporters travelling overseas to visit mills and set in place plans for a new season supply.
The Eastern Market Indicator gave up 13 cents over the week to settle at 1,981 cents AU$ terms (Figure 1).
The EMI was also weaker in US$ terms although not to the same scale as in Au$ terms, closing at 1,462 US cents, down 9 on the week.
Comparing the wool market performance over the season, a 31% lift for the EMI is an excellent result. The bulk of the clip now sits in the 18 to 19 MPG range, and this area showed the least gains at 17 & 22% respectively, while 20 & 21 MPG which has seen continued decline in supply performed best.
Again, sellers exercised restraint, with 11.2% passed in on Wednesday and a further 5.3% on Thursday for a total of 8.5% over the week. Still a significant pass-in rate given the level of the market but well back on the double-digit figures of last week.
An offering of 40,544 bales resulted in 37,095 bales sold, well above the 27,000 averages for June but in line with the season average of 39,000 per week.
The first day saw a continuation of the softer trend of last week before a recovery on Thursday with Fremantle off the market. This was especially evident in the 19 and broader types, all quoted dearer, with the finer types fully firm although 16 & 17 MPG were irregular.
Crossbreds also finished on a solid note; with AWEX noting that better prepared lots sold best. This is now a feature of this market where poorly prepared or unskirted lots are not well regraded and buyers are selective.
Merino Skirtings eased in line with fleece wool, however lines containing >5% VM again were not keenly sought.
Merino Cardings also eased with the Cardings Indicator in Sydney – 17, Melbourne – 29 and -21 in Fremantle.