Wool market back in action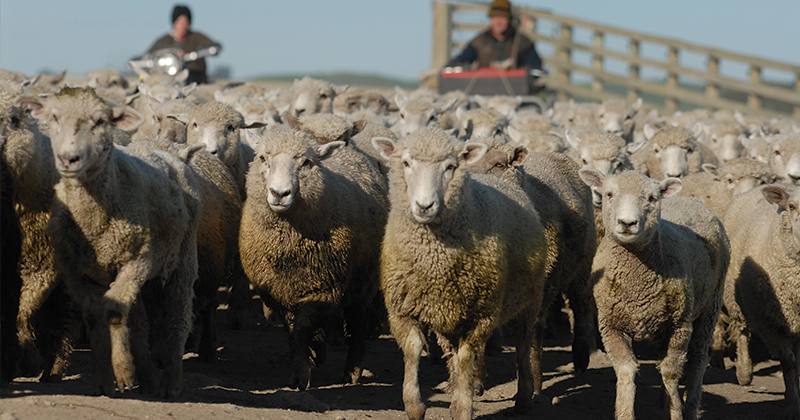 The wool market opened after the winter recess with what appeared early to be a negative sentiment on the back of an increased offering. This didn't last long, as by the end of the week buyers were keen to purchase and pushed the market above the previous close.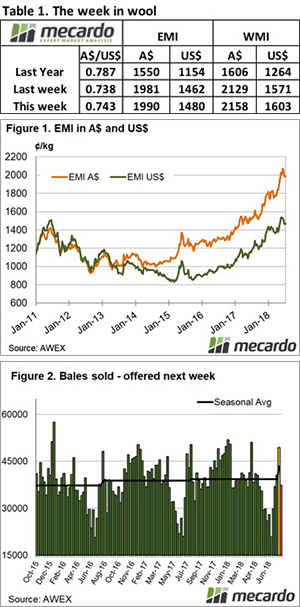 The Eastern Market Indicator gave away 25 cents on the first day, however by the end of sales had picked up 9 cents above the previous sale close to settle at 1,990 cents AU$ terms (Figure 1).
The EMI was also stronger in US$ terms, closing at 1,480 US cents, up 18 cents on the week.
When we thought that perhaps the wool market would settle down into maybe a declining market after the extreme ride that occurred pre-recess, in fact, the result this week suggests that we may not have seen the last of this "Bull" market.
Sellers began the week reluctant to follow the market lower, but by the end of the week, there was a positive tone, with a total of 4.7% passed in for the week.
An offering of 49,415 bales resulted in 47,0176 bales sold, a solid clearance for the resumption of sales.
A couple of notes from AWEX caught the eye; early in the week, the better style wool held in the face of a softer market, while lower quality types struggled to find support. This has been a notable pattern over recent times especially when the market is soft.
The other message was in regard to non-mulesed wool; it was noted that buyers competed aggressively, especially on Thursday. We are hearing of a more regular demand and AWEX is reporting more frequently identifiable premiums for wool designated non-mulesed.
Crossbred wool didn't see the shining results of Merino fleece this week. Demand was lacking and as a result, 26-28 micron wools lost 50 to 90 cents.
Merino Cardings also improved with the Cardings Indicator in Sydney – 13, Melbourne – 16 and -31 in Fremantle compared to the previous sale.
The week ahead
Next week all centres are listed to sell.
A look ahead shows that roster offerings are declining, with 37,290 listed for next week and 33,761 for the following week. This should support the market in the short term.