Wool market feels full effect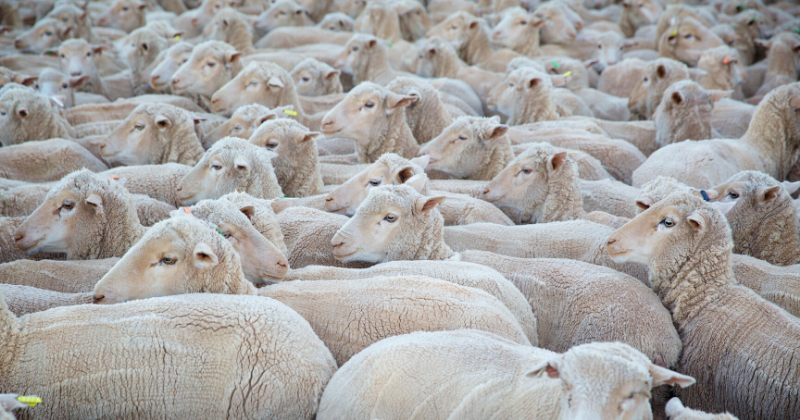 If last week in the midst of global turmoil the wool market caught a cold, this week it had "full-blown influenza". Despite the Au$ free-falling, the wool market was hit hard with buyers reducing limits continuing the EMI downturn for the sixth consecutive day.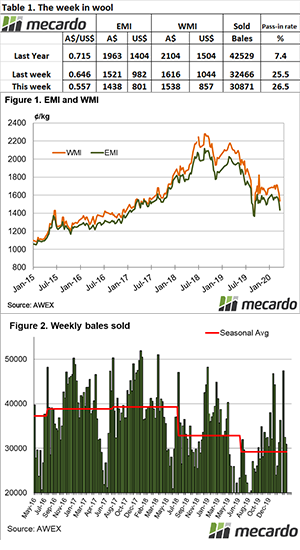 From the outset, the market was significantly cheaper with 100+ cent falls across the board.
The Eastern Market Indicator (EMI) lost 83 cents or 5% for the series to close at 1,438 cents. The Australian dollar collapsed losing almost US$0.09 to be quoted on Thursday at US$0.557. This cushioned the effect on sellers however the EMI in US terms was down 181 cents to 801 cents. This was a massive 18% fall and the lowest the EMI has been in US$ terms for over ten years. A sign that the global impact on trade is now clearly transferred into the wool market.
The Western Market Indicator performed better than the East, giving up 78 cents on the week to close at 1,538 cents. There were positive signs late on Thursday where the W.A. market clawed back some ground. However, W.A. brokers passed in 34.1% of the 8,066 bales offered, selling just 5,317 bales. 
While just on 50,000 bales were rostered nationally, almost 8,000 were withdrawn prior to sale resulting in 41,986 bales offered. Only 30,871 bales were eventually sold resulting in another high pass-in rate of 26.5%.
This week the total sales value was $46.49 million or $1,505 per bale, this is around $200 per bale lower than the seasonal average.
Crossbred types again showed the only positive moves with small gains in the 30 & 32 MPG's although the finer crossbreds fell in line with the merino section. The Cardings indicators were not spared falling in all centres by 50 to 80 cents. 
The week ahead
Another large roster is listed for next week for with 49,874 bales rostered, with Melbourne again selling over three days and all centres selling on Wednesday & Thursday.
In "normal" conditions the collapsing Au$ would be a stimulant for buyers to purchase at lower US$ levels. These certainly are not "normal" times, with probably the only certainty that it will be much less than the 49,000 bales rostered that is eventually sold next week.