Wool Week celebrations swing to the buyers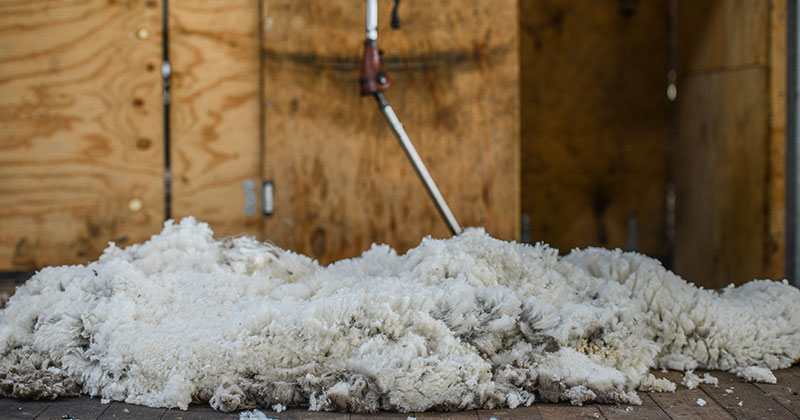 It's been nice to see the glowing Wool Week campaigns highlighting the benefits of wool to consumers, especially considering the market was far from glowing this week. Prices took another harsh cut, replicating last weeks loss which appears to be driven from uncertainty in the China-US tariff war and added supply coming out of South Africa.
The Eastern Market Indicator (EMI) fell 60 cents on the week to close at 1,833 cents, that's on the back of last weeks 59 cent loss. The bulk of the drop was on the first day of sale, as some better style wools came forward on day two to slow the downward spiral. The Au$ dropped again to US $0.687 and as a result, the EMI in US$ terms fell by 49 cents to end the week at 1,261 US cents (Table 1).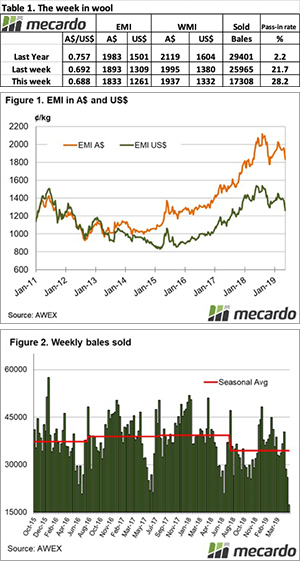 The Western Market Indicator (WMI) declined by 58 cents to 1,937 cents this week. 48.7% of the small offering of wool was passed in as a result, which AWEX report was the lowest clearance rate in the West since 2003.
It's times like these when it's important to keep a check on prices from a historical perspective. There were times last year when we saw the market rally over 125 cents in a single week, and the EMI is still 25% above the five year average.
Nationally, supply was at extremely low levels with the full offering of just 24,121 bales. The total pass in rate for the week was 28.2%, leaving only 17,308 bales cleared to the trade. This is 12,093 bales fewer than the same week last year. In the auction weeks since the winter recess, 1,307,240 bales have been cleared to the trade, 252,308 fewer than the same period last year.
With the joint low volumes and reduced prices, the dollar value for the week was at a very low $32.7 million. The combined value so far this season is $2.991 billion. A simple calculation of $ value divided by bales sold gives us $1,889 per bale across all types for the week.
Crossbred wools took a large tumble in the falling market. The 28 micron fell another 110 cents. In USD terms, in the last two weeks, the 28MPG has retraced 50% of its rise from late 2018. The Merino Cardings Indicators declined 5-40 cents on the week.